9 Ways to Earn Extra Money as a Salesforce Blogger in 2023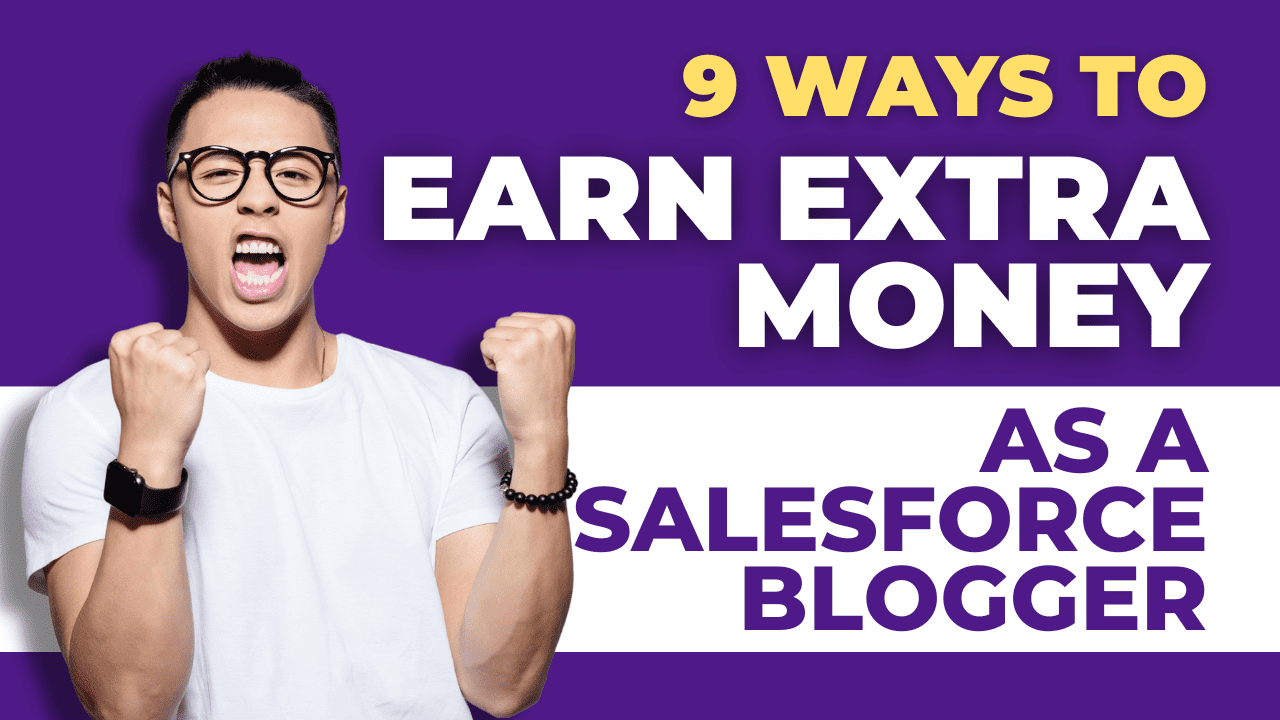 This post is PART 2 of my series on How To Earn Extra Money Online As A Salesforce Blogger.
Are you a Salesforce Admin looking for creative ways to use your skills to make extra money? Blogging can be a fantastic way to share your knowledge and help others while earning cash. It may seem daunting at first, but with a bit of creativity and dedication, you can turn your blog into something that's both informative and profitable.
Whether you're using it as a convenient platform to promote your services or just providing valuable insights from your experience as an Admin, blogging is an excellent way for Salesforce Admins to monetize their expertise. Making money online as a Salesforce professional can be a great way to establish your name in the Salesforce ecosystem through your blog articles.
This post will show you nine strategies for making extra money through your Salesforce-themed blog – get ready for some out-of-the-box thinking!


1. Write Ebooks for Your Online Store
Writing and selling ebooks through your Salesforce-themed blog can effectively generate income and share your expertise with a broader audience. By writing an eBook about something you're passionate about, you'll reach more people interested in learning about Salesforce while helping you make money in your sleep.
The key to successfully leveraging your Salesforce-themed blog to write and sell ebooks is ensuring you have a clearly defined target audience. Researching potential readers will help you create content that they will likely find interesting and valuable.
This could include tips on getting the most out of Salesforce to guides on specific features or functionality. Additionally, it may be helpful to think about what problem your book is solving for potential buyers – this can help inform the title and structure of the book itself.
Once you have identified your target market, consider ways to promote the ebook on your blog. Share excerpts or snippets from the book on social media or in email newsletters, as this will help pique readers' interest in purchasing it once it has been released.
You can also reach out directly to industry influencers and ask them for their feedback or opinion on the book – this can lead to word-of-mouth promotion which can be invaluable for getting eyes onto your new release.
In addition, creating an online store on your blog where customers can purchase the ebook is essential for selling digital products. You may choose a hosted eCommerce store such as Shopify or WooCommerce, depending on how complex you need it to be.
Once the store has been set up, you should make sure that payment processing is secure and easy for customers – this includes offering multiple payment options (such as credit card, PayPal, etc.).
Finally, consider offering additional resources alongside the ebook, such as sample chapters or bonus material, in exchange for signing up for a mailing list or downloading a free resource.
Utilizing these strategies will help provide added value to customers beyond just reading your ebook – giving people even more incentive to purchase it!


2. Create Online Courses
Creating and selling online courses through your Salesforce-themed blog is excellent for generating money online through your own online store. By leveraging your blog's content, you can create comprehensive, high-quality online courses that provide helpful instruction to your target audience.
To begin, you should determine which topics would benefit your readers the most. You could create courses on subjects such as how to use Salesforce, customize Salesforce, or develop applications for the platform.
Additionally, if you have experience in other fields related to Salesforce, such as customer service or marketing, you could also consider creating courses around those topics.
When creating these courses, it's essential to use various instructional materials and teaching methods. This could include step-by-step tutorials with visuals and images, educational videos with demonstrations and narration, podcasts with interviews and discussions from experts in the field, written resources such as tutorials and ebooks that are easy for readers to follow along with, interactive quizzes to assess comprehension of each lesson within the course material itself, as well as practice activities at the end of each lesson that can help reinforce learning.
Utilizing these different materials will make the courses more engaging for readers and help them retain what they learn more effectively.
In addition to designing high-quality course materials, it's also essential that you set a competitive price point for each course that reflects its value but still allows potential customers an incentive to purchase it.
You must promote each course across various channels on your blog to reach as many people as possible who might be interested in taking it.
You could do this by writing blog posts about the different topics included in each course; sharing audio clips from podcast episodes highlighting key points; embedding video previews or sample lessons; sending emails introducing new courses; posting promotional banners across social media platforms; or running targeted advertisement campaigns with paid search engines like Google Adsense, or Facebook Ads. This will help you sell digital products and make more money from your WordPress blog.
With effort and attention put into creating and promoting your course material, you can generate significant passive income through sales of your online courses on your Salesforce-themed blog.


3. Sell Consultation Services
You can leverage your blog to sell consultation services if you have extensive knowledge and experience with Salesforce. This is a great way to earn money online and help others make the most of their Salesforce investment while building your personal brand.
The first step in offering consultation services is to identify your target audience. If you're targeting people who are just beginning to use Salesforce and need assistance getting started, you can offer basic setup and configuration services as part of your consultations.
You might also focus on more experienced users who need in-depth help with customization, integration and reporting. Knowing your target audience helps you tailor your consulting services and determine a pricing structure that works for both parties.
You should also develop an outline of what will be included in the consultations. For example, if you're providing basic setup guidance, will it include dashboard design, user provisioning, security settings, and other essentials? Will there be time allotted for questions or additional topics?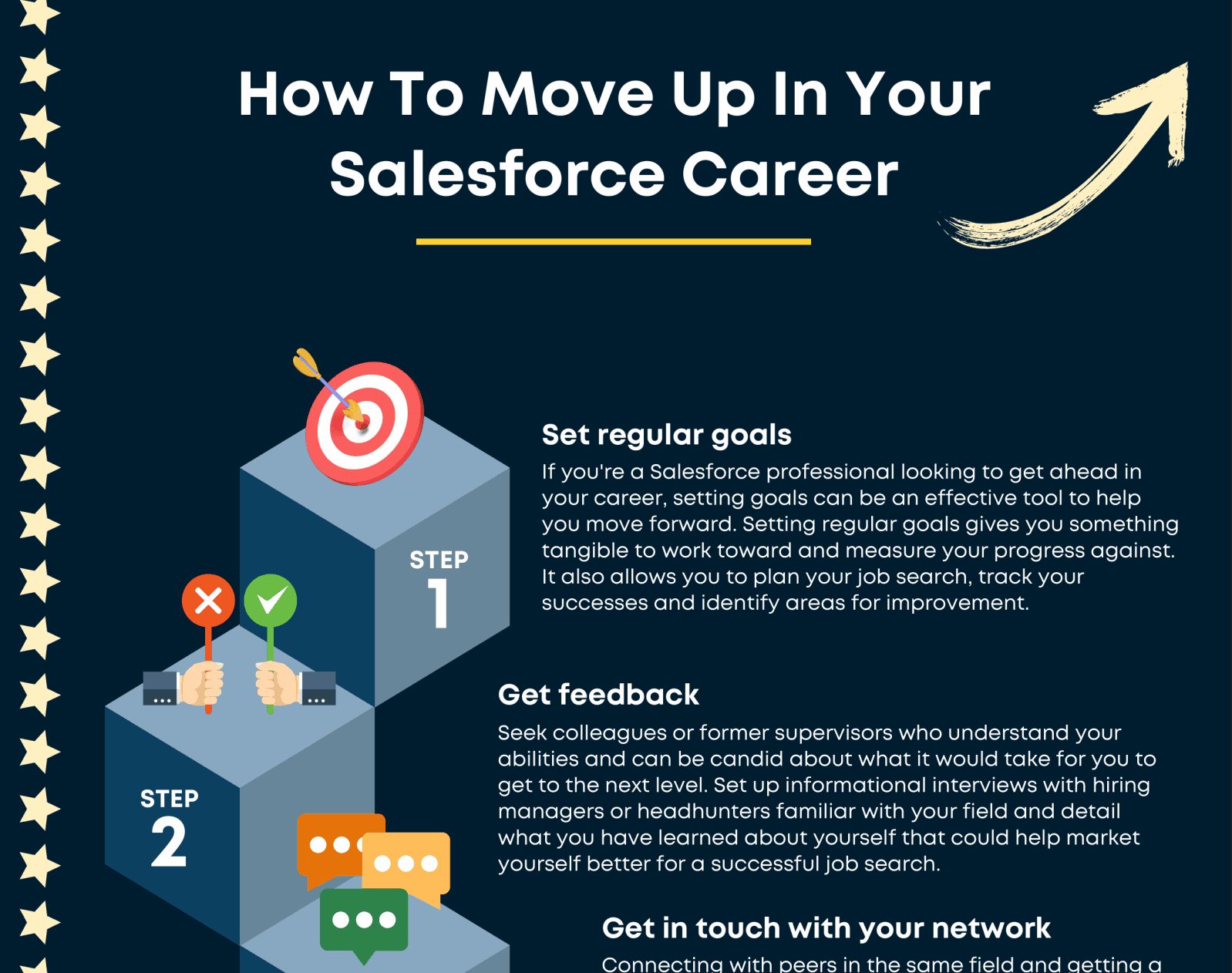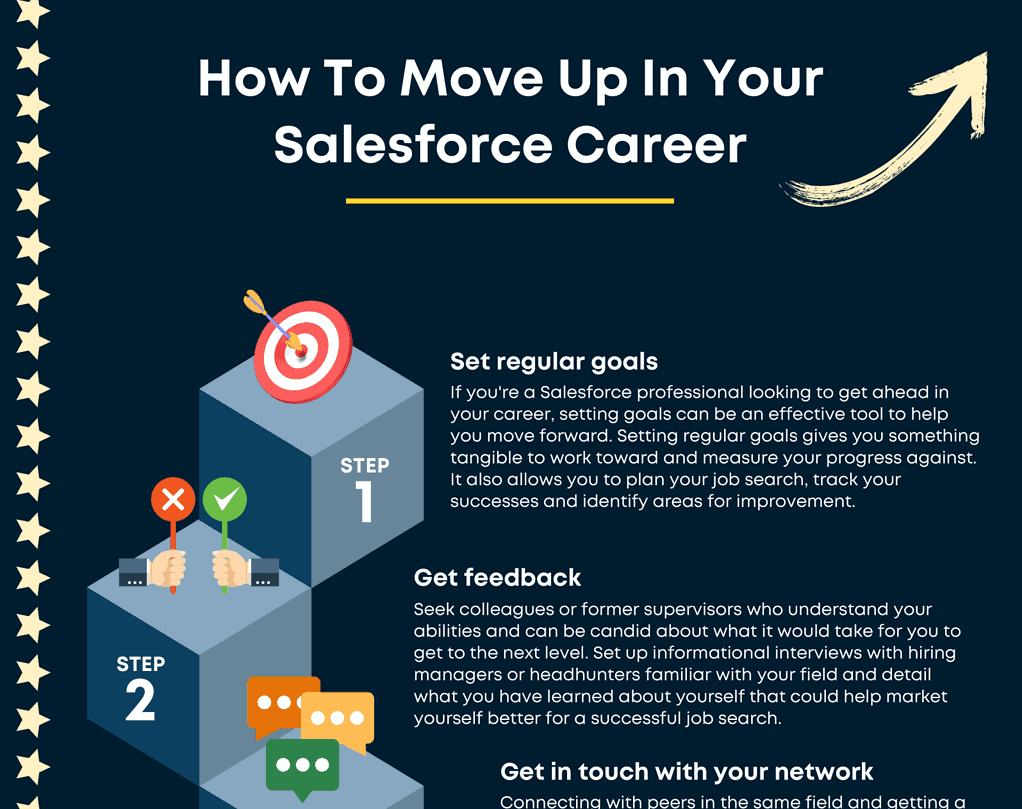 Free checklist: How to Move up in your Salesforce career
If you're looking for a Salesforce job, trying to improve your career and boost your income, you'll want to download this checklist!
With easy-to-follow and practical advice, this checklist will give you the roadmap to follow to position your Salesforce career for success!
Be sure to explain what's included, so clients understand what they'll receive before purchasing the service.
Once you've determined these details and established a pricing structure for your consultation services, it's time to start marketing them on your blog. You can create dedicated posts about the services that detail exactly what each package includes and how it could benefit potential buyers.
You can also publish case studies on your WordPress website featuring previous customers that discuss how the consultations helped their businesses succeed with Salesforce. This will help prospective customers see your services' benefits and generate interest in purchasing them.
In addition to creating content highlighting the benefits of your consulting services on your blog, consider using social media channels such as Twitter or LinkedIn to promote them and help you make money.
Platforms like these are used by successful bloggers to effectively reach potential customers quickly and easily without spending too much money on marketing efforts.
Offering consultation services on your Salesforce-themed blog is an excellent way to generate extra income while helping others get the most out of their investments in this prevalent CRM platform.


4. Sell Customized Solutions on Your Own Online Store
Another way to leverage your Salesforce-themed blog to make money is by showcasing the solutions you have developed in detail. You can highlight how each solution solves a problem or provides an advantage for using Salesforce, such as enhanced automation capabilities, improved user experience, or better scalability.
Additionally, you can provide testimonials from customers who have used your solutions and seen positive results. This will help build trust and boost your credibility as an expert on Salesforce solutions while helping you earn money online.
You can also use your blog to provide detailed descriptions of the specific technical aspects of your customized Salesforce solutions. Showcasing these details will make it easier for potential customers to understand precisely what they are getting with your solution and why it could be an excellent fit for their business needs.
Finally, you can offer instructional articles demonstrating how Salesforce professionals can use and implement your customized solutions. This will help potential customers learn more about them before purchasing.
It's also a great way to drive more traffic and engagement on your WordPress site, which will, in turn, help with visibility when it comes to promoting your customized Salesforce offerings.
In summary, leveraging a Salesforce-themed blog for selling customized solutions is an effective way to make money and build brand awareness. Through detailed descriptions of the advantages of using your solution, along with customer testimonials and instructional articles on implementation, potential customers can feel confident that they are making the right choice when investing in a customized solution from you.


5. Sell Merchandise in Your E-commerce Store
One of the great ways to leverage your Salesforce-themed blog to generate income as a Salesforce Admin is by selling merchandise. There are several print-on-demand business options that you should consider for your online business.
Merchandise like t-shirts, mugs, and other physical products with your blog's logo or name can help you monetize your audience and generate more revenue from your online store. By creating products related to your content, you can send a message to your readers showing how invested you are in growing a community around the blog's topics.
Additionally, having the right kind of merchandise in your online store lets people physically show off their support for your blog.
Creating unique and visually appealing products is essential to ensure you get the most out of selling custom products through your Salesforce-themed blog. You can do this by designing a logo or emblem specific to the content on the blog or incorporating relevant images or graphics into the design.
This will let your readers quickly identify what they're looking at and why they should buy these physical products from you. Additionally, consider adding extra features, such as special discounts for those who purchase multiple items or limited edition items that give customers an incentive to keep returning for more.
Regarding pricing, set prices according to what people are willing to pay for quality products instead of just trying to maximize profits. After all, if there isn't enough value in what you sell online, no one will buy it from you, and you won't make any money from it anyway. Ultimately, by providing high-quality products and setting reasonable prices, you'll be able to start making money online as passive income and earn a profit each time someone purchases something from your dropshipping business.


6. Sell Advertising Space
Selling advertising space on a Salesforce-themed blog can be an excellent way to generate additional passive income from your content. You can leverage your blog to attract potential advertisers by highlighting that you offer a unique platform for their message to reach a highly-targeted audience. Your readers are likely interested in Salesforce-related products and services, making it easier for advertisers to effectively reach those interested in what they offer.
To get started, consider researching existing sites with similar content and audience size as yours and determine how much they charge for advertising space. This will give you an idea of what rates you should set.
You should also consider ways to make your ad space more attractive than others, such as offering discounts when someone purchases multiple ads or a specific package deal.
To ensure potential advertisers find your blog, you'll want to ensure that your site is well-optimized for search engine results and easily discoverable online. Work on creating engaging titles, meta descriptions, and keywords so that people searching for Salesforce-related topics will see your site first.
Additionally, remember to share links to your blog posts through social media accounts or other platforms where prospective advertisers can find them.
Finally, when considering different ad types and sizes, keep in mind the user experience on your website; make sure any ads don't interfere with the overall design and look of the page or disrupt the reading flow of your content too much.
Ultimately, more appealing ad placement options could help convince potential advertisers that they will receive maximum exposure if they invest in advertising on your blog.


7. Sell Sponsored Posts
Leveraging your Salesforce-themed blog to sell sponsored posts is a great way to generate more money while helping businesses promote their products or services to an audience of Salesforce professionals. Offering sponsored posts on your blog can give advertisers access to a highly targeted audience likely to be interested in their products or services.
When setting up sponsored posts, you must ensure they are relevant and valuable to your readers. You want the post's content to be engaging and exciting for your target market and provide information about the sponsor's product or service.
The key is ensuring that the content is informative and entertaining so that readers remain engaged and continue visiting your WordPress blog. This will also help build trust with your audience, who will be more likely to return for future sponsored posts.
Consider setting up affiliate links within the sponsored post itself, which allow you to earn a commission when visitors click on those links and make purchases from the sponsor's website. Many successful bloggers become affiliate marketers, too.
As an affiliate marketer, you can make money blogging without creating additional work for yourself. Joining an affiliate program can be a simple way to turn your blog writing into another fun way to make money online.
Additionally, suppose you have relationships with certain vendors who offer commissions for sales referred through a link. You can add these links to the post and earn extra income from those referrals.
It's also essential that any sponsored content not appear overly promotional or pushy; instead, focus on providing helpful advice or tips that Salesforce professionals would find useful. This will demonstrate that you understand your audience's needs and ensure they will keep coming back for more valuable content from your blog.
Finally, it's essential for bloggers wanting to monetize their sites by selling sponsored posts and advertising space on their blogs that clearly state what type of content they're willing to accept – and stick by those guidelines – to maintain trust with their readership. Doing so will help ensure sponsors get the maximum benefit from working with you while still providing value-based content and protecting both parties involved.


8. Offer One-On-One Coaching
You can tap into a unique and potentially lucrative revenue stream by leveraging your Salesforce-themed blog to offer one-on-one coaching. By creating high-quality content that provides valuable information to readers, you build trust and credibility in your knowledge.
You can increase readers' interest in your coaching services by providing helpful content and resources. Utilize the Salesforce knowledge and experience you've developed to capitalize on this opportunity and monetize it.
To promote your one-on-one coaching services, you can create blog posts highlighting the value of one-on-one coaching and how it can help people reach their goals faster.
As a Salesforce professional, you should also provide detailed descriptions of your services, such as the topics you cover, how long each session is, and what payment options are available.
Consider offering discounts or special promotions periodically to attract more customers and incentivize them to use your services.
Additionally, social media marketing is essential for promoting your one-on-one coaching services to help you earn money. You can share short snippets of advice and best practices related to Salesforce and links to your blog or website, where readers can learn more about your services.
Consider partnering with other Salesforce bloggers (through guest posts) or influencers who may be willing to help promote your services and help you introduce your business ideas to a broader audience.
Finally, don't forget the power of word-of-mouth marketing when offering one-on-one coaching through your Salesforce blog. Ask satisfied customers or clients if they'd be willing to write a review on social media or participate in an interview about their experience with your services for a blog post or podcast episode.
The better the experience people have with you as a coach, the more likely they will recommend you to others which could result in even more sales!


9. Create A Paid Membership Site
Creating a paid membership site is a great way to generate recurring revenue and increase engagement with your Salesforce-themed blog. You can offer exclusive content only to your blog members by charging a monthly fee. This could include behind-the-scenes interviews with Salesforce professionals, special reports on the latest trends in the industry, or early access to new products and services.
To get started, you'll want to create an attractive landing page that explains what users can expect from joining your membership site. Be sure to highlight key benefits like exclusive content and discounts on products and services related to Salesforce. You should also include a clear call-to-action that encourages visitors to join. Once the landing page is up, it's time to create restrictive access for members-only content.
You can use tools like WordPress plugins or third-party software solutions to set up different access levels for members. For example, you could offer different levels of access for basic subscribers, such as access to specific categories of content or a limited number of posts per month; or you could offer premium subscriptions with unlimited access and other exclusive features, such as one-on-one coaching sessions with Salesforce pros or free webinars related to the topic.
Once you've set up your system and launched the membership site, don't forget about marketing! Promote your membership site on social media channels such as Twitter, Instagram, and LinkedIn.
Even better if you have an email list to promote your membership sites, and make sure that your blog posts are optimized for SEO, so they appear in search engines like Google when relevant keywords are used.
Additionally, consider providing discounts for long-term subscriptions or offering incentives such as free webinars or discounts on related products in exchange for referrals from existing members. This will help draw attention to your membership site and encourage more people to join over time.


Conclusion
If you have a Salesforce-themed blog, there are many ways you can monetize it and start earning some extra money. From affiliate marketing to sponsored posts, there are opportunities for everyone. The best way to find what will work for you is to experiment and see what brings in the most revenue.
With a little effort, you could earn more money from your blog than you ever thought possible.
Stay tuned for Part 3 of this series!
Did this article give you some ideas?
If so, share it on social media so others can benefit!
Looking for other creative ways to increase your income as a Salesforce professional? Check out this article!
Jasper AI
Salesforce Admins are busy and overwhelmed managing projects and incoming requests.
It's challenging to keep up with everything when constantly being pulled in different directions. You need a way to manage your time more effectively, and that's where Jasper comes in.
With Jasper, you can easily delegate writing tasks to save yourself time and stress.
Tell Jasper what you need, and he'll take care of the rest, using persuasive language that will make your colleagues take notice.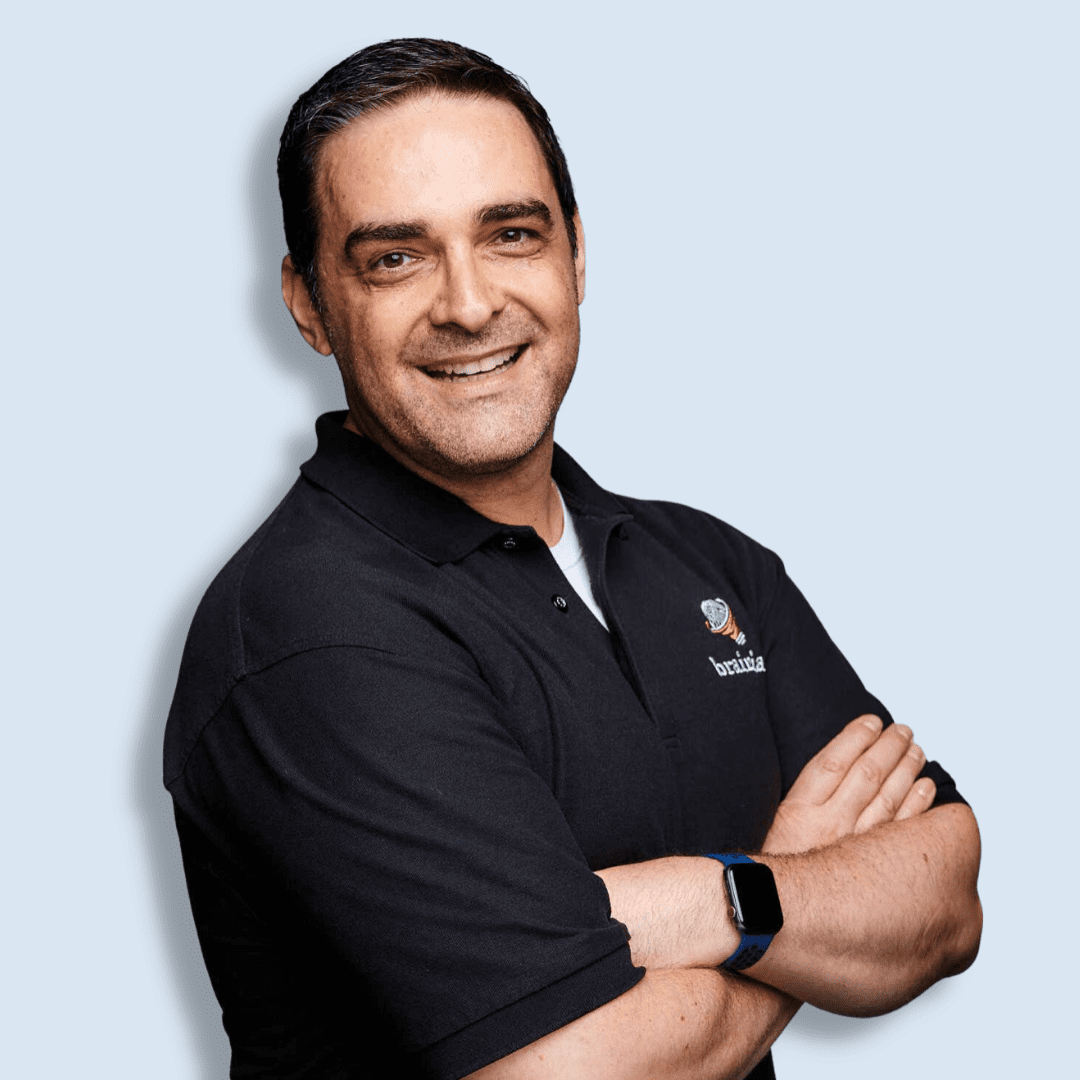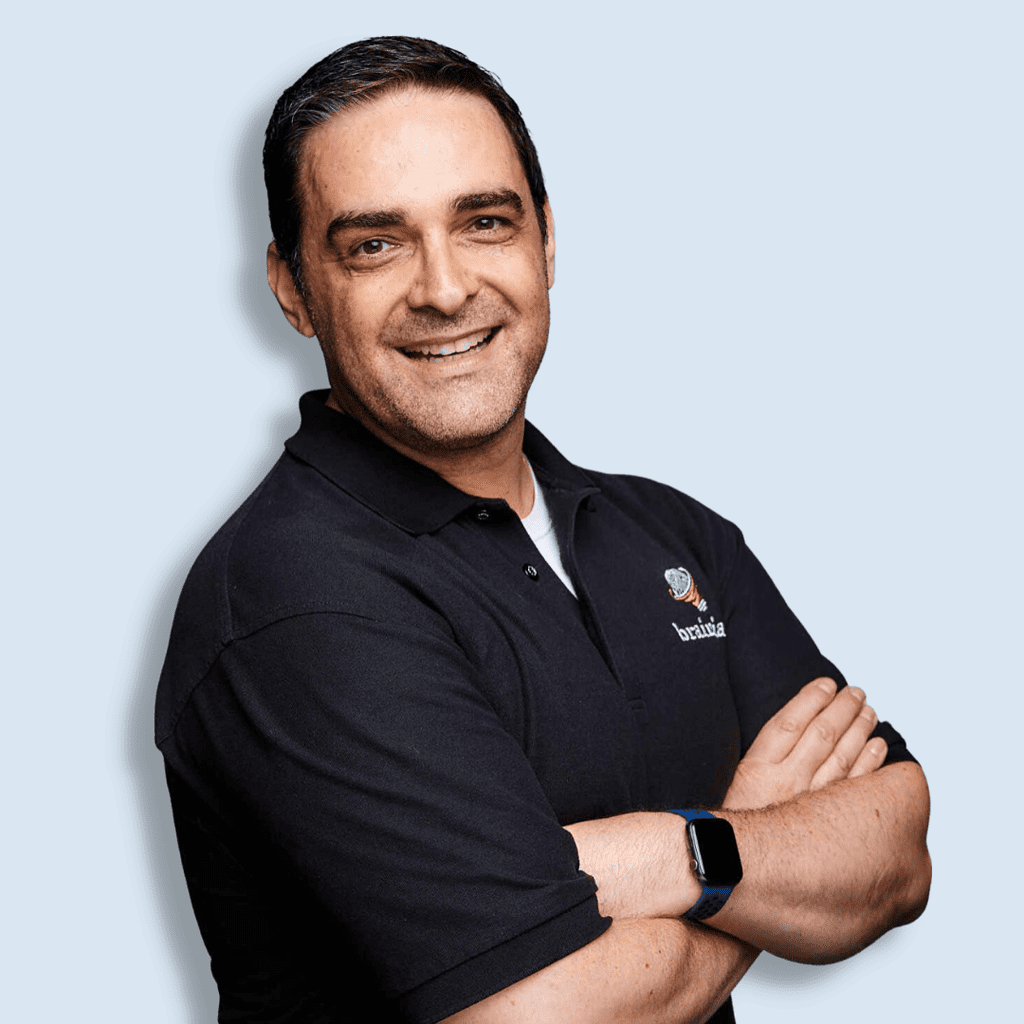 Get practical Salesforce advice in your inbox!
Feeling overwhelmed by everything you have to do as a Salesforce Admin?
I know how it feels.
I created the FREE Brainiate Newsletter – to help you stay up-to-date with the latest Salesforce news, advice, and product recommendations.
Sign up for my newsletter and get all that information right in your inbox – without having to search for it yourself. You'll be able to focus on your projects with peace of mind, knowing you're always up-to-date on the latest Salesforce updates.
Click the button below and sign up for my FREE Brainiate Newsletter today!