Manual Document Creation: Uncover the Hidden Costs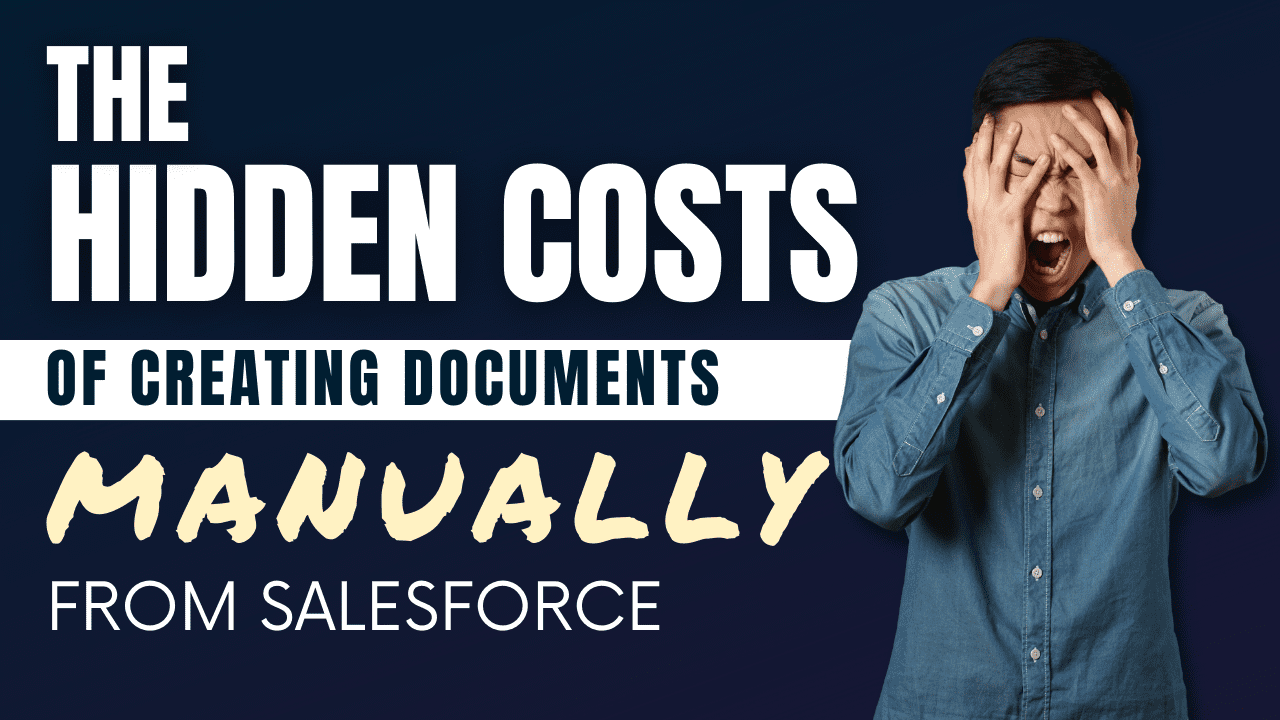 It's no secret that manual document creation from Salesforce can be expensive and time-consuming.
But did you know using a tool like Conga Composer to create your documents can save you time and money?
Check out this post to uncover the hidden costs of manual document creation.
You'll learn how automating your document creation process with Salesforce can help you improve efficiency and accuracy while reducing costs.
We all know how tedious and time-consuming it can be to create documents manually. It's a process that takes countless hours.
It typically requires the agreement of multiple stakeholders to get the job done correctly – not to mention manual document creation, unfortunately, often introduces room for errors!
With Conga Composer, Salesforce Admins can automate these manual, time-consuming processes slowing down your company's sales lifecycle while maintaining accuracy and streamlining processes.
Here we will explore the hidden costs of relying on manual document creation and tips for utilizing the power of Conga Composer so you can remove these bottlenecks in no time!


Why You Should Care About Salesforce Document Generation
Document generation software for Salesforce is an innovative technology and tool designed to help streamline the document creation process. Document generation tools allow Salesforce users to tap into a library of existing templates and fill them out, complete with data from Salesforce, with just a few clicks.
This automated approach eliminates manual processes, lets users save time, improves accuracy, and easily creates professional-looking documents using your existing corporate document templates.
With tools like Conga Composer, users can quickly generate contracts, proposals, quotes, invoices, letters, and more. Need multiple documents created? Document creation tools of this type allow you to quickly generate multiple rich format documents and distribute those documents within a few minutes.
Your team can create professional documents with a few clicks or even automatically using data from any Salesforce object, such as Accounts, Contacts, and Opportunities. Business users don't need technical knowledge to use your company's document templates and go from contract creation to contract signing, saving the completed files, and then sending completed files to customers in just a few clicks.
Your team's per-user productivity will skyrocket when they realize you've eliminated the manual creation process and introduced a system to create PDF versions of your generated documents and send completed files to customers by clicking a single button!
Need signature management functionality, too? Conga Composer also integrates with DocuSign and Conga Sign, allowing your team to distribute documents efficiently and capture signatures while minimizing issues with human error.
By leveraging the benefits and power of this advanced technology, companies benefit from enhanced quality sales material, proposals, and quotes sent to customers quickly. This streamlines customer onboarding, increases conversions, and accelerates sales growth.
How Salesforce Document Generation Can Benefit Your Business
Document generation is the automated creation of documents based on your pre-built template library. Documents can be produced on demand, for example, before and after sales meetings, or created in real-time using data from applications like Salesforce.
By using document generation within Salesforce, companies significantly reduce the time to create documents such as proposals, quotes, agreements, and contracts. They can generate documents quickly, accurately, and efficiently which helps increase deal velocity and improve customer experience.
Additionally, by promoting consistent branding across the organization and the documents they produce, organizations can ensure they present a powerful message in every interaction with customers and partners.
Document generation is an invaluable solution with Salesforce as it opens up more opportunities to manage document processes efficiently while creating high-quality marketing materials to help you build relationships with potential customers.
1. Time-Consuming
Time consumption is one of the primary inefficiencies of creating documents by cutting and pasting from Salesforce into documents. Copying and pasting data from one application to another can take significant time, especially if the data is complex or there is much of it.
2. Inaccurate
Another inefficiency of cutting and pasting from Salesforce into documents is that it can be inaccurate. When data is copied and pasted from one application to another, there is always the potential for errors to occur. These errors can range from minor inaccuracies to significant data loss.
3. Unreliable
Another issue with this method is that it is unreliable. If the data in Salesforce changes, the document in Word will only reflect those changes if it is manually updated. This can lead to confusion and frustration for users relying on the Microsoft document for accurate information.
4. Difficult to Format
Another inefficiency of this copying information from Salesforce into documents is that it can be challenging to format the document correctly. When data is copied and pasted from one application to another, the formatting often does not carry over correctly. This can make the document difficult to read or use. This includes seemingly minor elements like fonts and font sizes, which can be time-consuming for employees to update and make your documents look unprofessional.
5. Not Scalable
Another issue with cutting and pasting between two systems is that it is not scalable. If more documents need to be created, more time will be spent copying and pasting data from Salesforce into documents. This can become a significant problem for organizations that must regularly create many documents.
6. Opportunity Cost
By utilizing technology to automate mundane, tedious tasks that are bogging your team's productivity, you can free up their attention for more important goals. Imagine how much faster and easier it would be to close deals after freeing up employee bandwidth; prospects and customers will receive the personalized touch they crave as you focus on nurturing them through your relationships at each step of the sales cycle.


The Problems With Manual Document Creation
Dealing With Delays: Tips to Speed up the Process
The time and cost of automated document generation are often overlooked when tasks such as cutting and pasting information from Salesforce into Microsoft documents are minor.
However, manually performing this activity can result in unnecessary costs for companies in the long run. In fact, with the current technology available, employees do not need to perform such mundane tasks when automated document production software could significantly increase efficiency.
Automating document production allows deals and contracts to move faster through sales pipelines while saving on labor costs. It is also impressive to your prospect when you send a written proposal, contract, or quote in minutes instead of days or weeks.
Therefore, management must note that seemingly innocuous business activities like this could significantly impact a company's resources over time.
How to Avoid Losing Customers and Deals Due to Errors or Mistakes
When manually cutting and pasting information from Salesforce into Microsoft documents, there is a risk of lost deals and customers due to errors or mistakes. Even the slightest mistake, such as leaving out an important detail, can lead to lost business.
These typos, or other errors, such as incorrect formatting, incorrect calculations, or lacking documentation, can result in time-consuming corrections that may only be caught once the deal is closed.
Losing customers' trust when encountering these mistakes can prove disastrous in the long run.
Leveraging an automated software system that will accurately transfer data without manual user input is best to avoid making costly mistakes that can lead to lost deals and customers.
How to Safeguard Your Business From Reputational Damage
Manually copying customer information from Salesforce and pasting it into documents can be incredibly tedious. Still, the errors could potentially lead to reputational damage if done incorrectly.
The longer the process takes, the higher the chance of human errors.
The risk of losing accuracy and introducing irregularities is compounded further when inputting vast amounts of data. This inefficiency can have profound implications for companies that heavily rely on accurate data for their success, as inaccuracies in their sales reports could lead to misinformed decision-making and difficult-to-repair brand reputations.
Implementing automated methods to streamline this process from start to finish can help reduce the risk of costly mistakes damaging any company's reputation and success.

How Conga Composer Can Automate Your Document Generation Processes
Automating the Process of Populating Business Documents
Creating custom documents, such as proposals and quotes, are integral to many businesses' day-to-day operations. As great a tool as Salesforce is for keeping track of customer data, manually filling in the same information on company documentation becomes tedious and mundane.
Conga Composer can significantly simplify this process through the power of its AppExchange app. Conga Composer allows users to quickly access Salesforce data and insert it into Microsoft Word, PowerPoint, Excel documents, PDFs, and HTML emails to automatically populate their custom templates without manually entering every detail. And not only can these documents get generated with a single click, but you can also even automate the entire process based on the value of any field in Salesforce, like Lead Status or Opportunity Stage!
This saves time and energy, allowing companies to be more efficient and effective in providing excellent service while staying organized.
Enhance Your Quality Control & Accuracy
Conga Composer has revolutionized how companies can reduce error rates and improve accuracy and quality control. It works to reduce the risk of reputational damage by automatically populating Microsoft templates with information stored on Salesforce Contacts, Accounts, Opportunities, and any other object you use, even custom objects.
Moreover, this solution provides the user with the highest degree of reliability and consistency with minimal manual input, ensuring high data accuracy while eliminating chances of errors due to mismanagement or the end user's carelessness. This also continues to enforce throughout your organization that Salesforce is your single source of truth for data and a concrete reason for inputting data accurately because it will be used in document creation.
By using Conga Composer's automated processes, companies can save a lot of resources and energy that would otherwise be spent on checking for accuracy during document generation, as well as taking into account necessary revisions for impeccable output every single time.
Achieve Time Savings & Quicker Deals
Conga Composer is a game-changer for companies looking to increase efficiency and productivity while saving time.
By leveraging your Salesforce data, Conga Composer automatically populates your custom Microsoft templates, streamlining the effort to create agreements and approve contracts.
This ultimately means faster movements on deals and more time saved on document creation, allowing you to operate at maximum speed with accuracy.
With Conga Composer, you get the benefits and peace of mind knowing that all relevant information will be populated into accurate documents without manual effort.


Summary & Conclusion
Say Goodbye to Time-Consuming Document Creation
Manual document creation processes can be time-consuming and tedious.
Documents created manually are prone to inaccuracies and errors, leading to costly mistakes and damaging brand reputation.
There is a lack of quality control during the process, increasing the risk of reputational damage.
The manual input required increases resource expenditure, reducing efficiency and productivity.
Manually generating documents slows down deal movements due to prolonged document creation times.
Make Document Creation Effortless
Conga Composer can quickly access Salesforce data and automatically insert it into Microsoft Word, Excel, PowerPoint documents, PDFs, and HTML emails to populate custom templates, saving time and energy.
Improved accuracy & quality control through automation reduces error rates & risk of reputational damage.
Increased efficiency & productivity, leading to time savings & more rapid movements on deals.
Automated document generation processes reduce resource expenditure & improve brand reputation with impeccable output every time.
Streamlines the effort involved in creating and approving contracts, allowing companies to operate at maximum speed with accuracy and peace of mind knowing that all relevant information will be populated into accurate documents with no manual effort required.
Although switching to an automated document creation system may seem daunting or time-consuming, gaining an edge in the workplace can be simple with Conga Composer.
Allowing you to save time and money, this document generation solution helps optimize your workflow so that you have more opportunities for success without feeling bogged down by repeat tasks!
Using Conga Composer, you can be confident that your documents will be accurate and consistent with your brand standards. This gives your team more time to build relationships with customers and prospects instead of wasting time on manual document creation.
If you're interested in learning more about how Conga Composer can help streamline the document creation process for your business, click here to find out more about Conga Composer.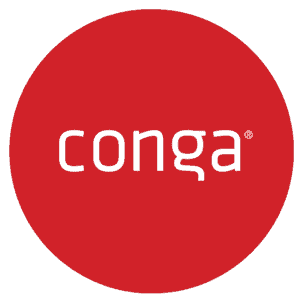 Conga Composer
Conga Composer is the perfect document-generation system to jumpstart your sales enablement efforts!
With this innovative tool, you can save time and money while streamlining workflow so your sales team can focus their energy on essential tasks.
Invest in Conga Composer today and watch as it transforms your team's productivity!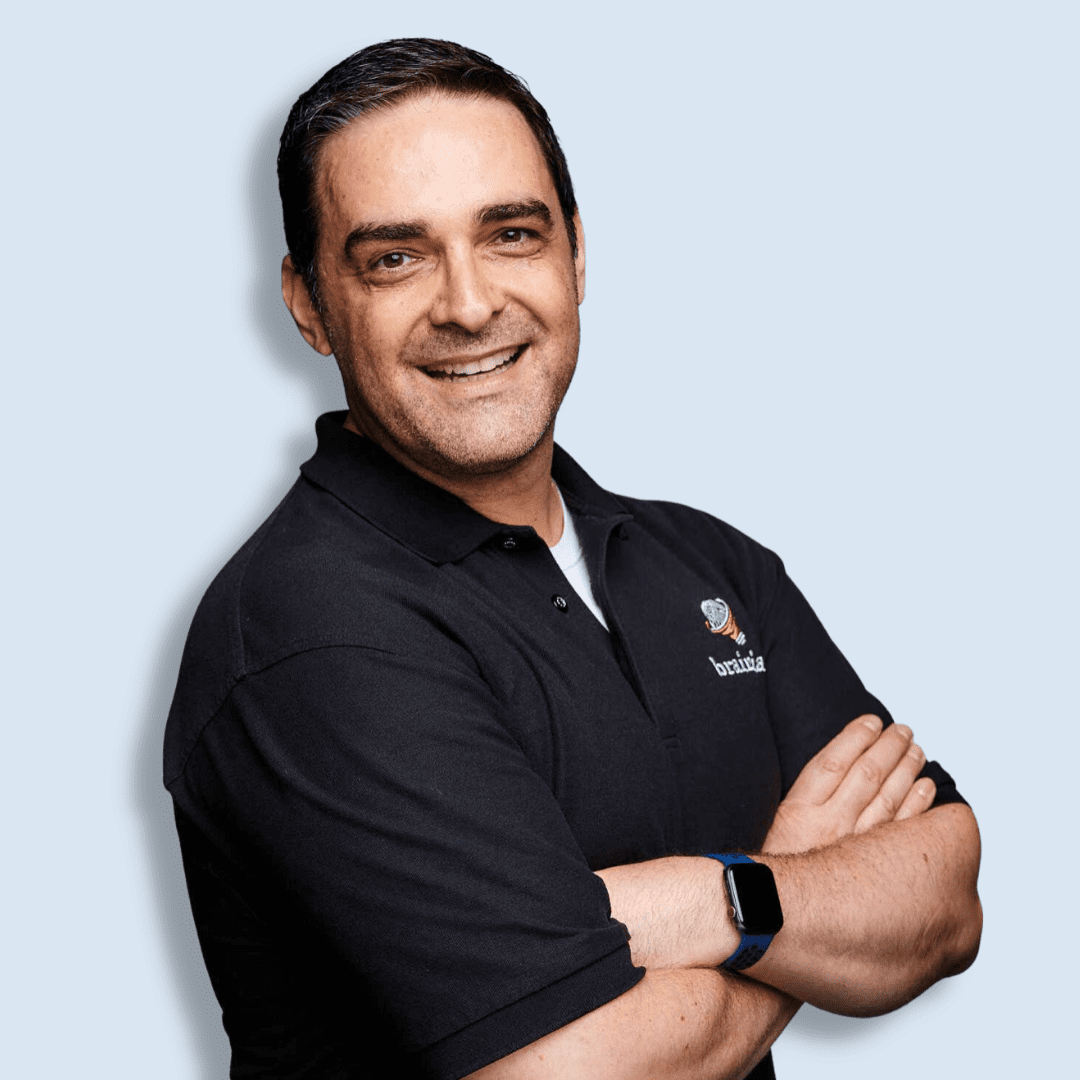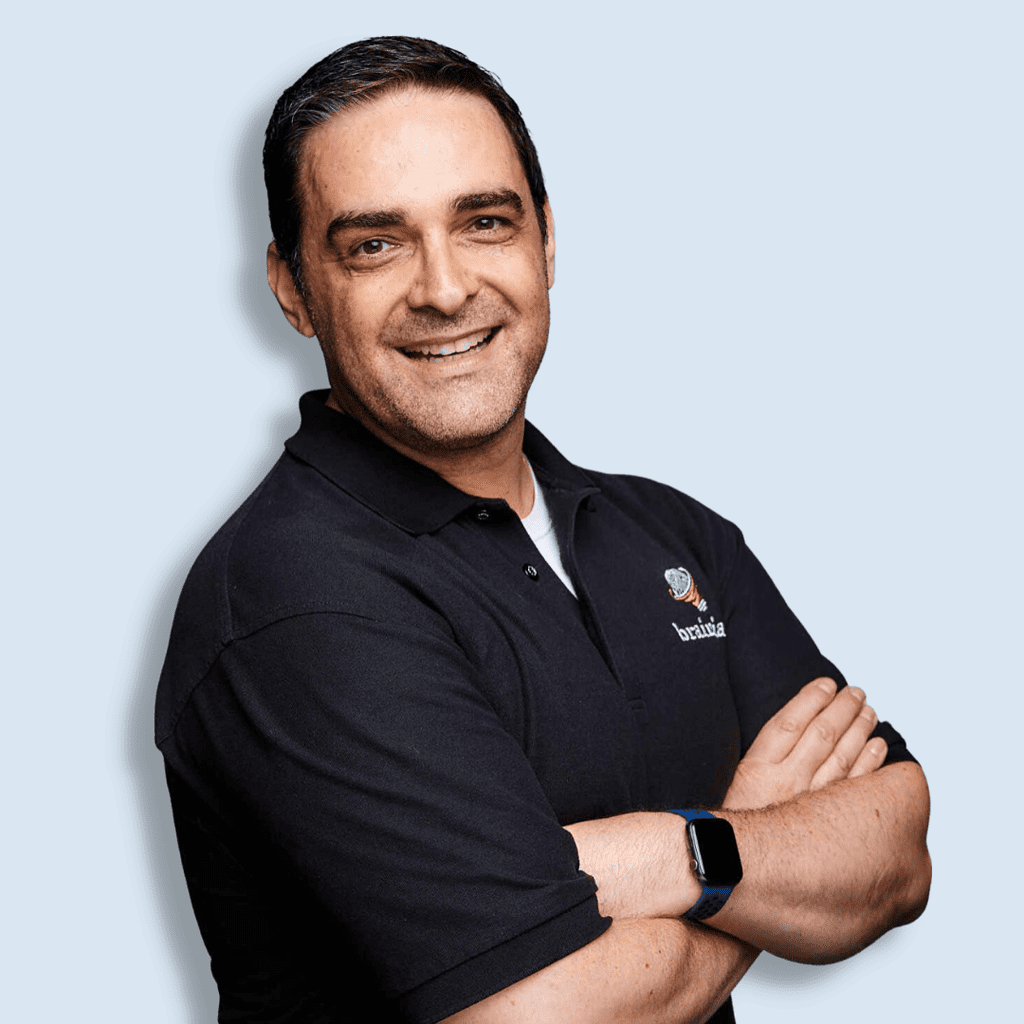 Get practical Salesforce advice in your inbox!
Feeling overwhelmed by everything you have to do as a Salesforce Admin?
I know how it feels.
I created the FREE Brainiate Newsletter – to help you stay up-to-date with the latest Salesforce news, advice, and product recommendations.
Sign up for my newsletter and get all that information right in your inbox – without having to search for it yourself. You'll be able to focus on your projects with peace of mind, knowing you're always up-to-date on the latest Salesforce updates.
Click the button below and sign up for my FREE Brainiate Newsletter today!