Conga Composer Review 2023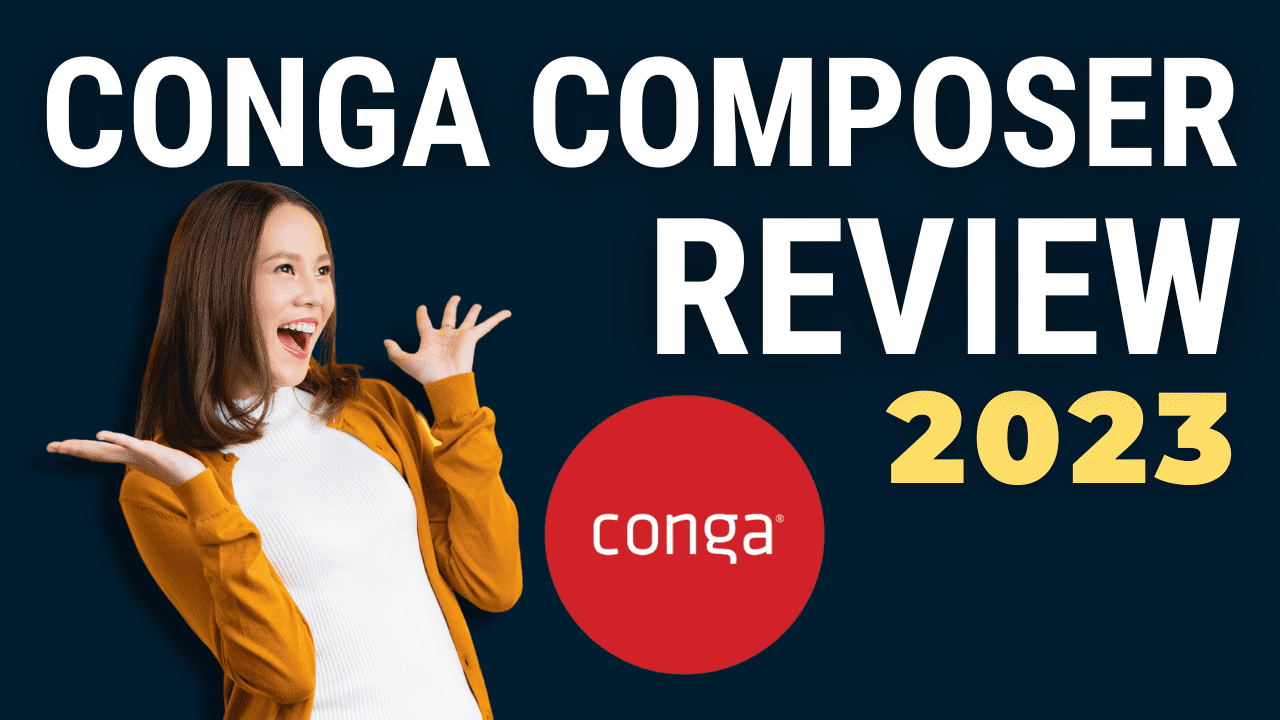 Salesforce Admins have an incredibly challenging job. They manage every aspect of the Sales team's processes, from customer relations to lead generation to sales forecasting.
With so many moving parts, it's no wonder that mistakes can happen, processes can get bogged down, and sales can suffer. That's where Conga Composer comes in.
Conga Composer is a powerful tool that automates document creation with Salesforce data, streamlining the sales process and increasing productivity. In this blog post, we'll look at Conga Composer and how it can help you address common sales process challenges to improve your team's performance.
So, if you're a Salesforce Admin looking to take your Sales team to the next level, keep reading to learn more about Conga Composer and what it can do for you.
What Is Conga Composer?
If you're a Salesforce Admin who deals with Sales teams, you might have heard of Conga Composer – one of the most powerful tools you can use to streamline and automate your sales processes. In simple words, Conga Composer is an application that allows you to create and deliver custom documents, reports, and presentations directly from Salesforce.
With Conga Composer, you can say goodbye to manual data entry, repetitive copy-pasting, and inconsistent formatting. Instead, you can generate proposals, contracts, invoices, and other documents with just a few clicks using the information stored in your Salesforce database.
But that's not all. Conga Composer lets you personalize your documents with dynamic content, such as images, tables, charts, and digital signatures. You can set up rules and conditions to ensure that each document meets your standards and complies with the relevant regulations. And you can deliver your documents through various channels, such as email, online portals, or even snail mail.
Furthermore, Conga Composer integrates seamlessly with Salesforce, meaning you don't have to switch between different applications or platforms. You can access and use Conga Composer directly from your Salesforce interface, and you can leverage the data and insights from your CRM to create better documents and improve your sales performance.
Conga Composer is a must-have tool for any Salesforce Admin who wants to boost their sales team's productivity, efficiency, and effectiveness. With Conga Composer, you can save time, reduce errors, increase customer satisfaction, and close more deals – all while keeping your data safe, your workflows coherent, and your users happy. Sounds like a win-win, right?
Who Created Conga Composer?
Conga Composer was created by AppExtremes, Inc., which is a company that was founded back in 2006. What started as a small startup quickly grew in size and popularity thanks to some innovative ideas and a team of highly skilled professionals dedicated to finding new and valuable ways to help Salesforce users.
The first version of Conga Composer was launched during Salesforce Apex Day in January 2007. This groundbreaking tool allowed users to automatically generate Microsoft Word documents from multiple Salesforce data sources, making it easy to create customized reports, proposals, and other documents that could be used for Sales purposes. And as more and more customers began using Conga Composer, the company continued to receive feedback and requests to add new features and capabilities to the tool.
Based on customer feedback, Conga Composer expanded its offerings to include support for HTML email and multiple document types, including Microsoft Excel, Adobe PDF, and Microsoft PowerPoint. With these new features added, Conga Composer quickly became one of the most popular document-generation tools for Salesforce users.
And to reflect its growing popularity and expanded offerings, AppExtremes officially rebranded itself to Conga on April 16th, 2013. Today, Conga offers a comprehensive suite of document generation, presentation, and reporting tools designed to help Salesforce users streamline their workflows and improve their productivity.
Top Benefits of Conga Composer
As a Salesforce Admin, your job is to find ways to improve the processes of the Sales team that you support. Conga Composer is a game-changing tool that can help you do just that! Here are some of the top benefits of Conga Composer:
Customizable Templates: With Conga Composer, you can create customizable templates for your sales documents. From proposals to contracts, you can easily select the appropriate template and customize it with your client's information. This saves time and ensures that your sales documents are consistent and professional.
Automated Document Generation: One of the most significant benefits of Conga Composer is its ability to generate documents automatically. This means you can create a template once, and your Salesforce users can generate countless versions of the same document with different data. Whether you need to generate invoices, quotes, or contracts, Conga Composer makes it easy to do so.
Streamlined Processes: With Conga Composer, you can streamline your sales processes. This tool makes it easy to merge data from multiple sources and create unified, easy-to-understand documents. This means you can spend less time on administrative tasks and more time focusing on what matters – growing your business.
Improved Accuracy: With Conga Composer, you can reduce errors and improve accuracy. The tool automatically merges data from multiple sources, ensuring that your documents are consistent and accurate. This means that you can avoid costly mistakes and maintain a professional reputation.
Increased Productivity: Conga Composer can significantly increase your team's productivity. By automating many routine tasks around document creation, your sales team can spend more time on high-value activities that drive business growth. This means you can focus on developing new sales strategies, building client relationships, and closing deals.
Conga Composer is a powerful tool that can help you streamline your sales processes, reduce errors, improve accuracy, and increase productivity. Conga Composer is worth considering if you're a Salesforce Admin looking to improve your Sales team's processes.
Best Features of Conga Composer
Conga Composer is a powerful tool that helps streamline the process of creating documents within Salesforce. Its extensive features provide a seamless and efficient experience for Salesforce Admins and end-users.
In this section, we'll explore some of the best features of Conga Composer and how they can benefit your Sales team.
Customizable Templates
Conga Composer allows you to create dynamic templates that can be customized to meet your organization's specific needs.
The templates can be tailored to enable data merging from multiple sources, facilitating the easy creation of complex documents. Customizable templates are an excellent feature that saves time and allows you to maintain consistency across all your documents.
Automating Document Generation
With Conga Composer, you can automate the generation of essential documents, such as contracts and proposals, by setting up document generation rules.
Once a set of rules has been established, Composer will automatically generate all required documents based on the information in your Salesforce records.
Merge With Multiple Data Sources
Another great feature of Conga Composer is its ability to merge data from multiple Salesforce records and other external sources.
This feature comes in handy when creating documents that require information from different sources. This can save your team significant time, enabling them to create professional, accurate, and comprehensive documents.
Intuitive Interface
Conga Composer's interface is intuitive and user-friendly, making it easy for Salesforce Admins and end-users to navigate.
The interface is designed to be simple yet powerful, with easy-to-use features such as drag-and-drop functionality, which allows users to create documents swiftly.
Integration With Other Apps
Conga Composer integrates seamlessly with other Salesforce applications, such as Salesforce CPQ and Conga Sign. Integration with other applications allows for an all-in-one Salesforce experience that speeds up processes and reduces the need for manual intervention.
In conclusion, Conga Composer is a robust tool that provides innovative features that can help streamline your sales processes. You can create professional and accurate documents in record time with customizable templates, automation, and the ability to merge data from multiple sources.
The intuitive interface and seamless integration with other Salesforce applications only add to the overall value of this exceptional application.
Conga Composer Pricing
Licensing starts at $20 per user/month, per the Conga Composer AppExchange listing.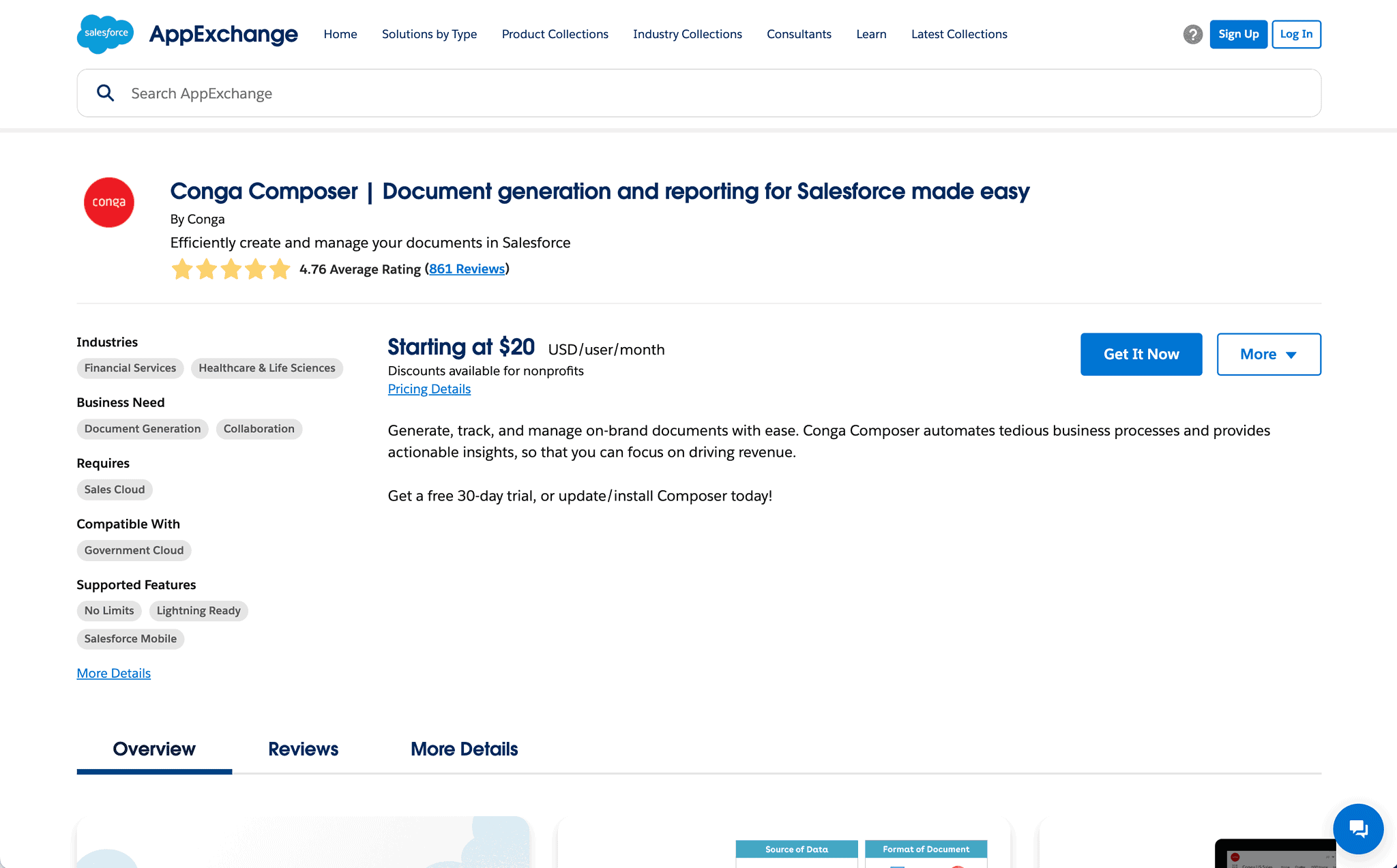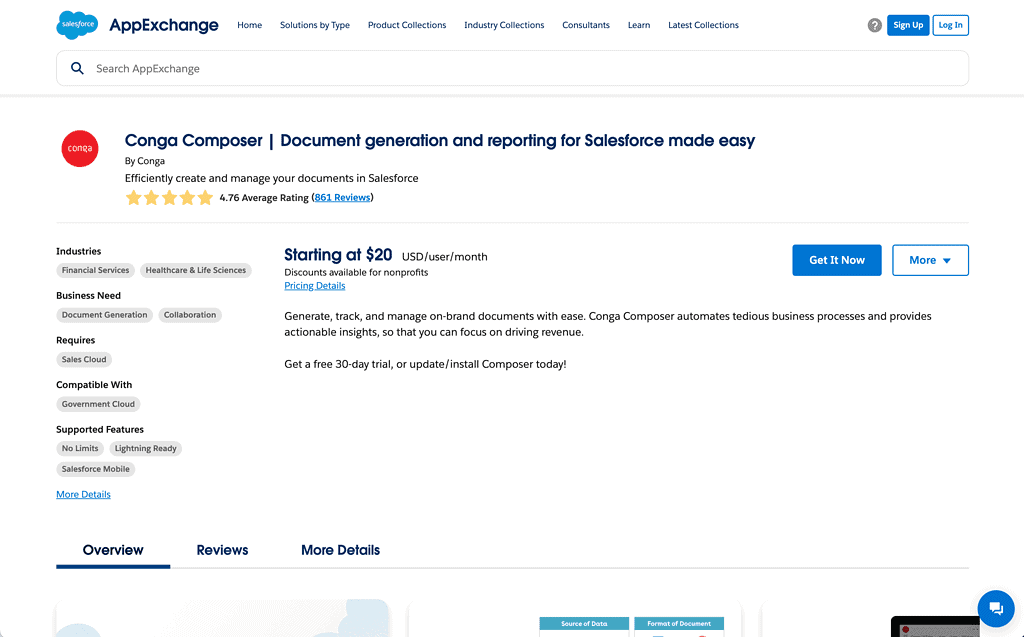 Conga Composer Pros and Cons
As Salesforce Admins, we must stay in the know with the latest tools to enhance our workflow and productivity.
Evaluating the pros and cons of these tools can help us make the most informed decisions, ensuring that we're equipping our Sales teams with the best support possible. One tool that's been creating some buzz lately is Conga Composer.
Today, we will take a deeper dive into the pros and cons of this software.
Conga Composer Pros
Streamlined Document Generation: Conga Composer excels in automating document creation. This saves heaps of time and minimizes the need to create documents from Salesforce data manually.
Document automation: Conga Composer enables you to automate complex document generation tasks, reducing human errors and increasing efficiency in high-volume document production.
Dynamic data population: It allows you to pull real-time data from your CRM or other databases, ensuring that your documents always contain the most up-to-date and accurate information from any source. Conga Composer APIs allow users to merge data from Salesforce and other data sources into documents generated within Salesforce.
Template Variety: Conga Composer offers various customizable templates for different document types – proposals, invoices, or contracts. This makes it a flexible tool suitable for various business needs.
Seamless Salesforce Integration: This tool is designed to integrate smoothly with Salesforce, which is music to any admin's ears. This seamless integration allows for the straightforward use of Salesforce data in your documents.
Multi-format output: Conga Composer supports multiple file formats, including PDF, Word, Excel, and PowerPoint, giving you flexibility in choosing the output format that suits your needs.
Mass Document Capabilities: With Conga Composer, you can generate mass documents with a single click. It's like having a document production line right at your fingertips!
Summing up the pros, Conga Composer stands out for its seamless integration with Salesforce, user-friendly interface, and ability to create and customize various documents. These features make it valuable for boosting productivity and streamlining document generation tasks.
But before we give it a total thumbs up, let's look at the flip side of the coin.
Conga Composer Cons
Learning Curve: Although the tool is pretty straightforward once you get the hang of it, it can be daunting for first-time users. Conga Composer does have a steep learning curve that could be intimidating for some.
Price Point: Conga Composer could be expensive depending on the number of users who need to generate documents. It might be a bit of a stretch for smaller businesses or those with tighter budgets.
Dependence on Salesforce: While the tight integration with Salesforce is a strength, it can also be a weakness. While Conga Composer can help you automatically generate documents with information stored in Salesforce, you'll still need to ensure your data is accurate to get the most out of this platform. Soon, other parts of your business will be able to use Conga Composer and its APIs without the dependence on Salesforce.
Reflecting on the cons, Conga Composer may not be everyone's cup of tea due to its learning curve, cost, and reliance on Salesforce data quality. It's essential to weigh these potential challenges against the benefits before deciding.
Conga Alternatives
Conga Composer Personal Experience: A Game Changer!
Having worked with various clients across various sectors, one tool that has consistently been my ace in the hole is Conga Composer. Its impressive capabilities have continually proven invaluable in transforming how companies manage their documents, from NDAs to contracts and proposals.
Take, for instance, a mid-sized tech firm struggling to keep up with its proposal generation. The sales team lost precious hours each week manually creating documents, a monotonous process prone to errors.
Introducing Conga Composer into their workflow was a revelation! Suddenly, customized documents were being created automatically. Not just that, they were converted to PDF, emailed to the proper recipients, and saved within Salesforce—all without a single click from the sales reps.
For a healthcare company that required stringent tracking of NDAs and contracts, Conga Composer again stepped in to save the day: no more back-and-forth emails, no more fretting over lost documents, and no more missed follow-ups.
With Conga, each document was automatically saved in Salesforce, and timely follow-up tasks were created for the sales reps.
My Personal Journey With Conga Composer
On a personal level, working with Conga Composer has been a tremendous learning experience. The first time I used it, the immediate boost in efficiency was apparent. But what amazed me was how it encouraged sales reps to take ownership of data quality.
Suddenly, sales reps understood their sales data quality's direct impact on customer interactions, as that's the data used in NDAs, contracts, and proposals.
A particularly memorable moment was with a client in the manufacturing industry. After integrating Conga Composer into their Salesforce, the sales reps initially grumbled about the change.
Yet, within a few weeks, they marveled at how the automated system saved time and enhanced their professionalism.
The system pulled in the latest data from Salesforce, eliminating embarrassing typos or outdated information in their documents. Suddenly, the sales reps found a new appreciation for maintaining high data quality in Salesforce—a win for everyone involved!
This is just a snapshot of my experience with Conga Composer. Every client and industry presents a new challenge and puzzle to solve. Still, with this tool in my Salesforce Admin toolkit, I've seen how it can revolutionize the document creation process and sales workflow.
It's not just about automation; it's about fostering a culture of data quality, streamlining processes, and ultimately empowering the sales teams to do what they do best—sell!
I genuinely believe Conga Composer is the game-changing app your users will love!
Conclusion: Should You Buy Conga Composer?
After exploring the features and benefits of Conga Composer, it is clear that this tool is a must-have for any Salesforce Admin looking to streamline their sales processes and improve productivity.
Conga Composer makes it easy to create professional and accurate documents quickly with customizable templates, automated document generation, and the ability to merge data from multiple sources.
While the software may have a steep learning curve and a higher price point than other document generation tools, its seamless integration with Salesforce and user-friendly interface make it a valuable asset for any sales team.
Overall, Conga Composer is a game-changing tool that can help you take your sales processes to the next level.
Ready to try Conga Composer and streamline your sales processes?
Start your free trial today and see the benefits for yourself!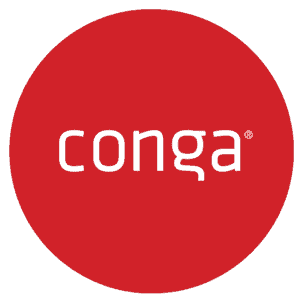 Conga Composer
Conga Composer is the perfect document-generation system to jumpstart your sales enablement efforts!
With this innovative tool, you can save time and money while streamlining workflow so that your sales team can focus their energy on essential tasks.
Invest in Conga Composer today and watch as it transforms your team's productivity!