How to Create a Personal Brand That Stands Out (Step-By-Step Guide)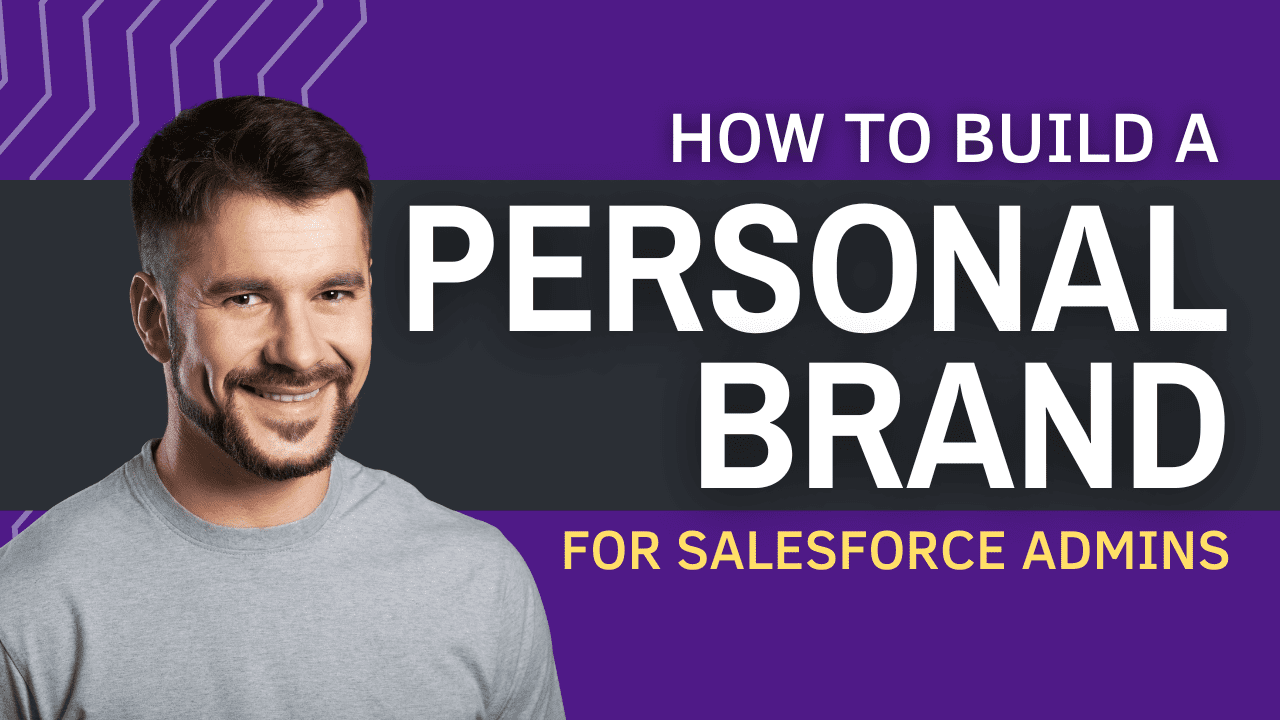 Introduction
Do you feel your Salesforce Admin skills and knowledge are getting lost in a crowded market? Are you looking for ways to make yourself stand out and be noticed? If so, it's time to start building your personal brand online.
A strong personal brand is invaluable for any Salesforce Admin looking to get ahead – it allows you to showcase your unique skills, experience, and personality, highlighting why you're the perfect fit for the role.
Defining Your Brand
Defining your brand is about discovering what makes you unique and how to communicate that to the world. It's an opportunity to think beyond your current role or job position and redefine yourself based on what matters most. Your personal brand should represent who you are and the message you want to share with others. Salesforce Admins must reflect on their background, accomplishments, and areas of expertise to create a brand that truly deserves attention. Making a lasting impression starts with taking a deep dive into defining the components of your personal brand – it can be scary but ultimately rewarding in achieving lasting success in the industry.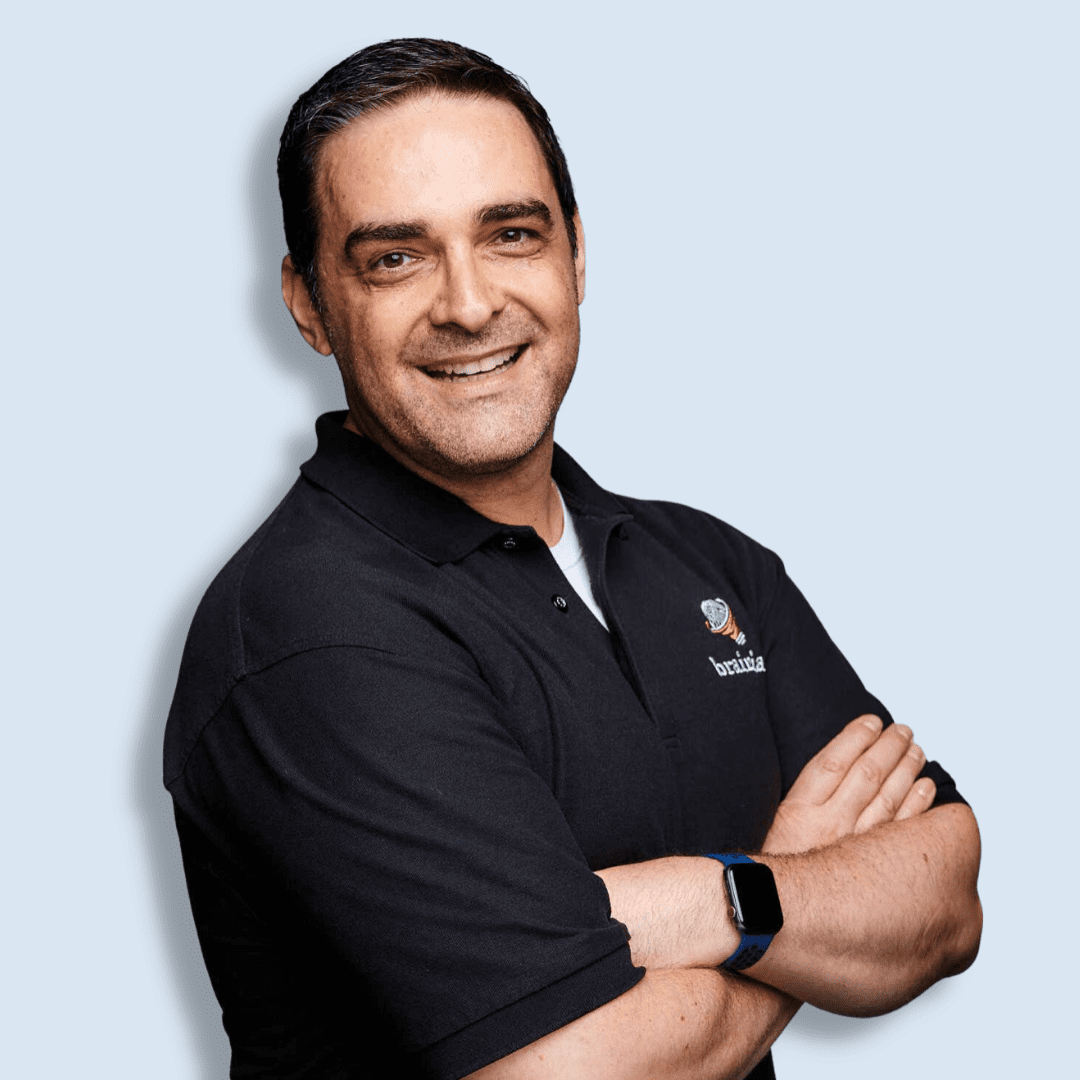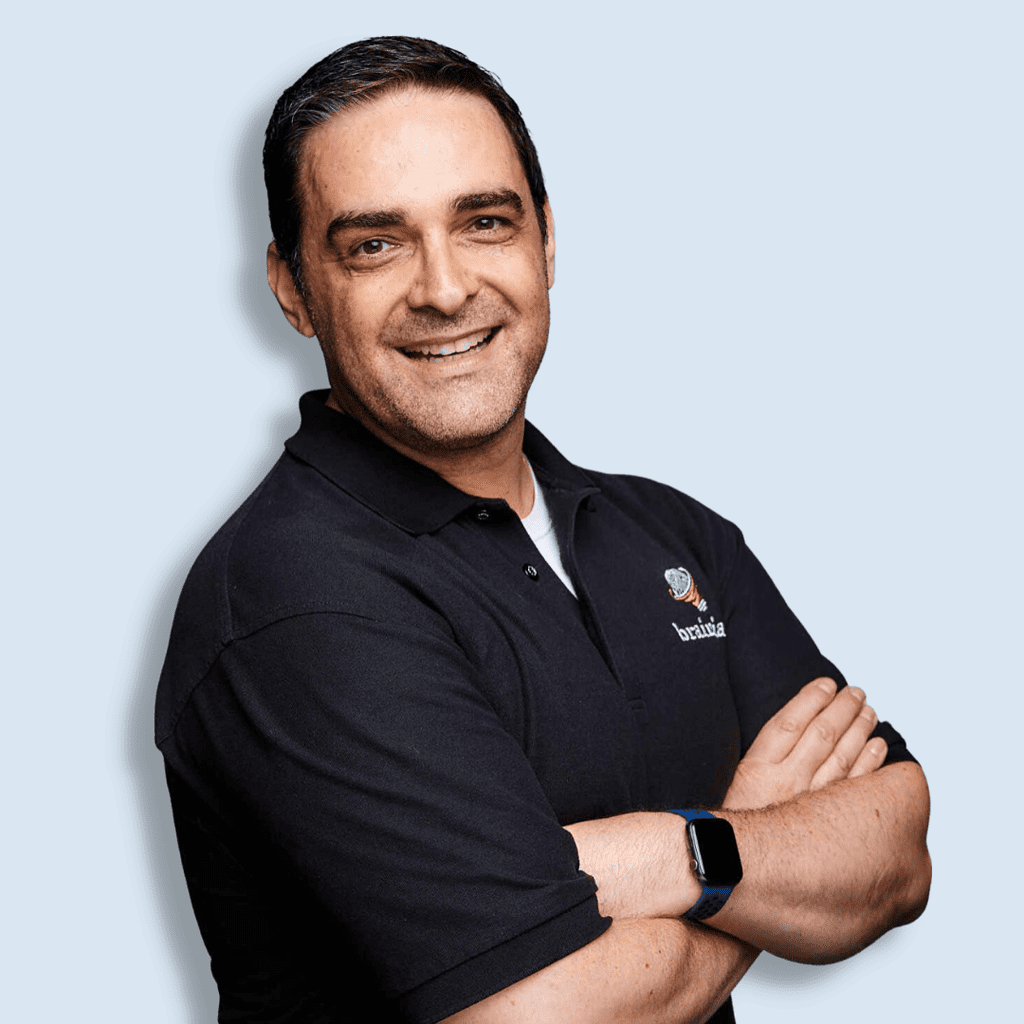 Get practical Salesforce advice in your inbox!
Feeling overwhelmed by everything you have to do as a Salesforce Admin?
I know how it feels.
I created the FREE Brainiate Newsletter – to help you stay up-to-date with the latest Salesforce news, advice, and product recommendations.
Sign up for my newsletter and get all that information right in your inbox – without having to search for it yourself. You'll be able to focus on your projects with peace of mind, knowing you're always up-to-date on the latest Salesforce updates.
Click the button below and sign up for my FREE Brainiate Newsletter today!

Step 1: Establish Your Unique Selling Proposition (USP)
What sets you apart from other Salesforce Admins? Do you specialize in customizing Salesforce solutions? Are you particularly good at coming up with creative solutions to problems? Knowing what makes you unique is the first step to developing an effective personal brand.
Step 2: Identify Your Target Audience
Before building a successful personal brand, you'll need to figure out who it's geared towards. Who are the people or companies most likely to be interested in what you offer? What kind of language should you use when targeting this audience? How can you tailor your marketing efforts to reach them effectively? These are all critical questions to consider when defining your target audience.
Step 3: Define Your Visual Identity
Once you've established your USP and identified your target audience, it's time to create a visual identity for your brand. This could include designing logos, choosing colors and fonts, and developing other graphic elements to help set your brand apart.
Step 4: Develop Your Content Strategy
Content is at the core of any successful personal branding strategy. Think about what type of content resonates with your target audience – blog posts, videos, podcasts, webinars – whatever works best for you! You should also consider ways to differentiate yourself from other Salesforce Admins with content demonstrating your sales automation or customer relationship management (CRM) expertise.
Creating a personal brand doesn't happen overnight; it takes time and effort to define and refine it until it accurately reflects who you are as a professional. But by following these steps, any Salesforce Admin can establish their own powerful personal brand that stands out from the competition!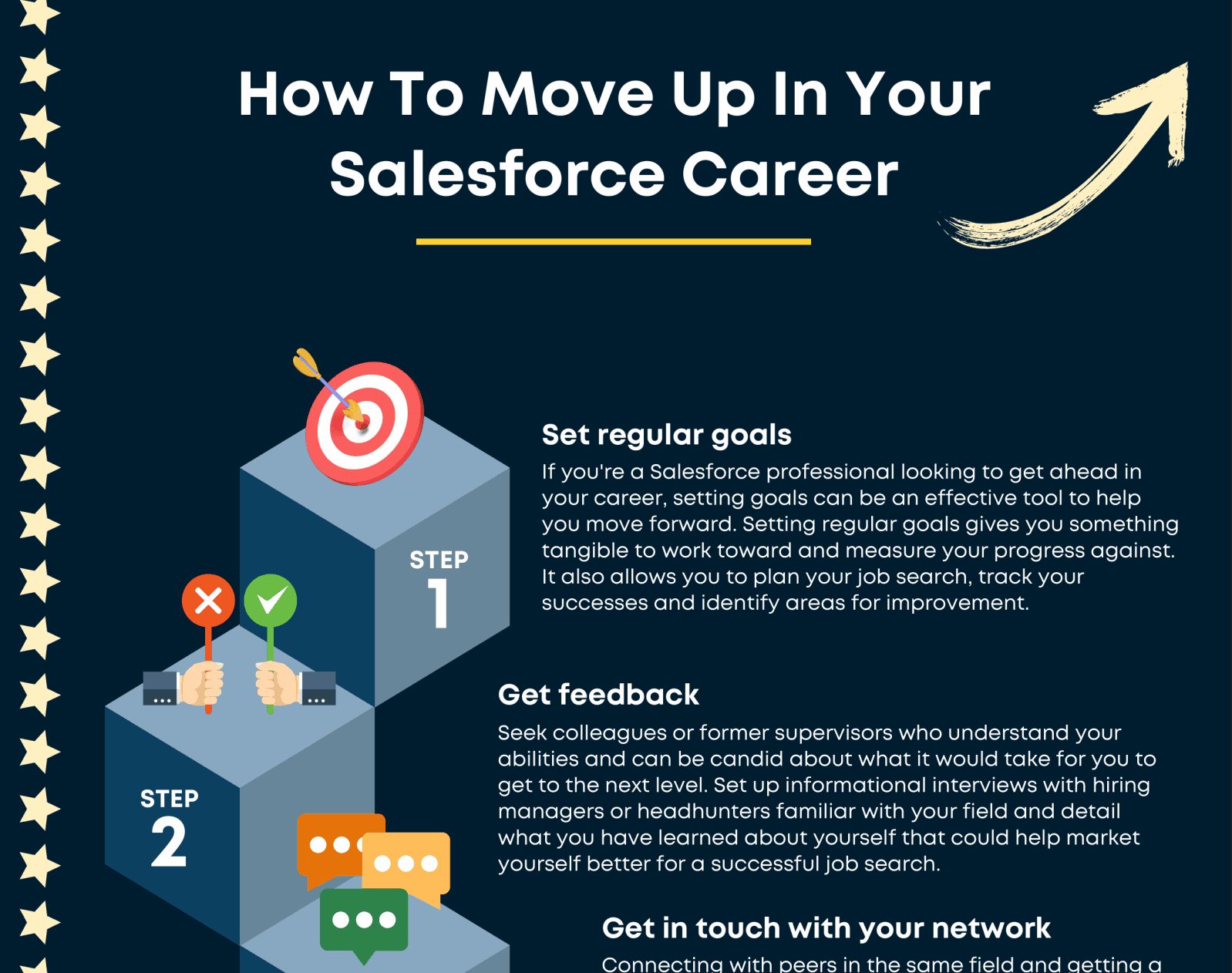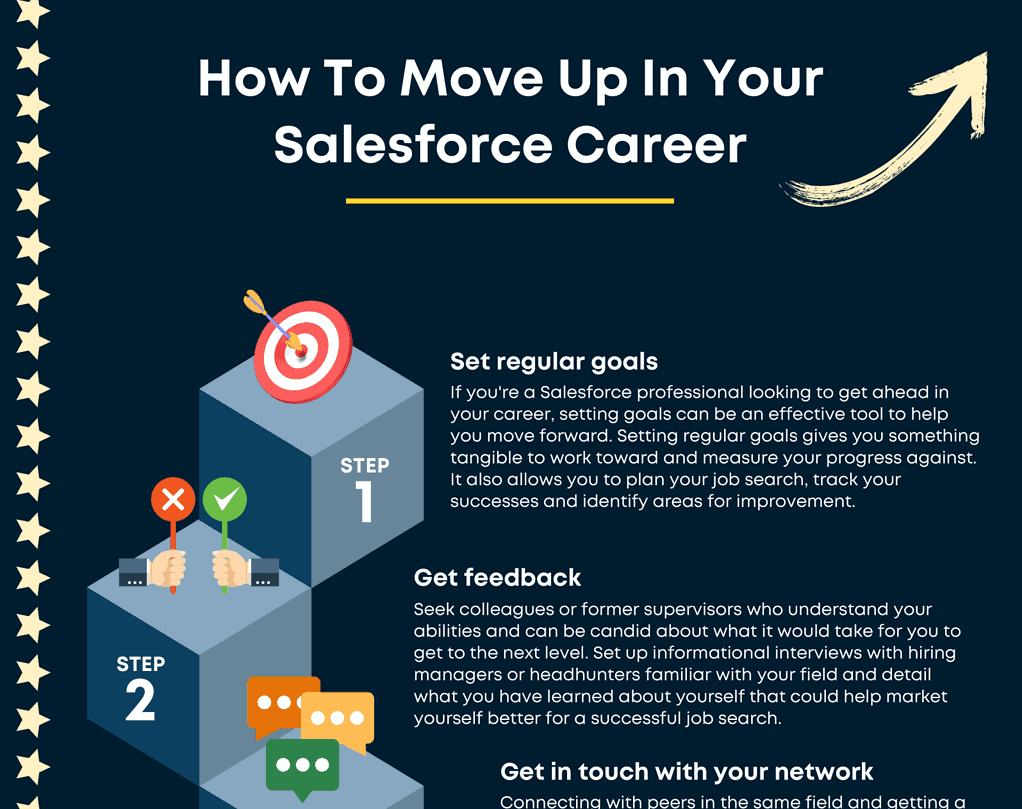 Free checklist: How to Move up in your Salesforce career
If you're looking for a Salesforce job, trying to improve your career and boost your income, you'll want to download this checklist!
With easy-to-follow and practical advice, this checklist will give you the roadmap to follow to position your Salesforce career for success!
Creating Your Brand Identity
Brand identity is your distinct style, essence, and personality that sets you apart. For Salesforce Admins looking to stand out professionally, creating an individualized brand identity is key. This could mean developing a unique aesthetic online presence, cultivating relationships with influential figures on social media, and finding a signature speaking style – whatever distinguishes you from the crowd! Creating and maintaining a well-defined brand identity will show prospective employers, future clients, and networking partners that you are dedicated to your field and have taken the time to establish yourself as an expert in your niche. Branding is more than just showing off; it's about finding your purpose, voice, and story to start being seen and heard in the industry.
Step 1: Choose Your Brand Colors
Your colors should be consistent, reflective of your personality, and accessible for viewers to recognize online. Choosing two primaries and two accent colors is usually enough for a cohesive visual identity. If you don't know where to begin, try researching popular brands in your industry and take inspiration from their color palettes – or use an online color palette generator for ideas.
Step 2: Design Your Logo
Your logo is essential to your visual identity – it's the first thing people will see when they come across your brand. It should be recognizable, simple, and timeless so that it won't need updating anytime soon. Suppose you don't have any design skills yourself. In that case, plenty of affordable logo design tools are available online, like Canva, or you could consider hiring a professional graphic designer to create something unique.
Step 3: Choose Your Brand Fonts
You should choose fonts that reflect your brand's personality while remaining legible on desktop and mobile devices. Consistency across all of your platforms is critical here – pick two complementary fonts (one for headlines/titles and one for the body copy) and stick with them throughout your digital materials.
With these three steps in mind, crafting a memorable personal brand no longer has to feel intimidating! You'll soon have an identity that reflects your personality and helps other Salesforce Admins remember who you are and what value you provide.
Creating Content
Creating content for a personal brand is about bringing yourself to the table. You don't have to be an expert in a particular field or know every Marketing technique. As a Salesforce Admin, you've already got valuable insight and experience to share—you need to find the right platform and format that speaks your language. For instance, you might take on a blog or start an e-book series if you prefer writing. On the other hand, if video production comes more naturally, then why not try out some webinars or video tutorials? Content creation can take many forms; platforms like Medium and YouTube give endless opportunities to get creative with telling your story and engaging with your audience. Ultimately, creating content boils down to expressing who you are in a meaningful way that resonates with your followers.
Step 1: Choose Your Content Topics
Your content should be tailored to your target audience and represent your brand personality. Think about what questions your target audience has and create content around them. This could include blogs, videos, social media posts, or podcasts – whichever medium resonates best with your audience. Ensure the topics are relevant to their interests and needs so your content will resonate with them.
Step 2: Develop Your Content Strategy
Now that you have a list of topics, it's time to develop a content strategy. Outline the types of content you'll create, the platforms you'll use to distribute them, and your posting schedule. Consistency is key when it comes to building your brand as an Admin – keep up with your posting schedule so people can rely on getting new information from you regularly.
Step 3: Create
It's time to get creative! Use fun visuals, catchy headlines, and informative videos when creating content for your brand. Aim for high quality and ensure that each piece of content has something valuable for readers or viewers. Remember your target audience – focus on providing helpful information they can benefit from rather than just promoting yourself or selling products/services.
By following these steps, you'll be well on your way to creating a solid personal brand as an Admin that resonates with others in the community! It may take time and effort, but ultimately, it will be worth it once people start recognizing and appreciating what value you bring to the table.
Building Your Online Presence
Building your online presence is essential if you're looking to create a personal brand that stands out. This means ensuring potential clients and industry peers know who you are and what kind of work you can do. Think of it this way: You want your profile to make an impression on employers when they look up your name or company. Get started by updating your professional qualifications, certifications, and professional affiliations on your profile and building profiles on social media – like LinkedIn and Twitter – that reflect your expertise in Salesforce Admin-related topics. Making certain information about you and the projects you've worked on easy for viewers to find can take effort, but it will be worth it at the end of the day!
Step 1: Optimize Your Social Media Profiles
Social media is one of the best ways to spread your message and show who you are as a professional. Make sure you complete each of your profiles, including bios, pictures, and links to relevant information about yourself and your work in Salesforce. Aim for consistency across all social platforms; use similar branding elements like logos, colors, and fonts so that all accounts belong to the same person.
Step 2: Join Online Communities & Groups
Tap into the power of networking by joining online communities and groups within your industry or related to Salesforce. These networks are great ways to meet peers in the same field, share ideas, showcase achievements, or even find potential employers or clients interested in hiring you for freelance work.
Step 3: Participate In Discussions & Events
Take advantage of any opportunity to network with others in your field online and offline. Attend conferences where you can mingle with other professionals and make new connections. Join LinkedIn groups where members discuss topics related to Salesforce development or customer service strategies – sharing valuable insights while also learning from other's experiences can help raise your profile among those looking for expertise in this area. Also, consider participating in online forums or discussion threads related to salesforce admin topics; answering questions thoughtfully can demonstrate your knowledge while helping others simultaneously!
Creating a personal brand requires effort but can have huge rewards if done correctly – it will impact how people view you as an expert in Salesforce admin services, show off what makes you unique, and help build trust between potential employers or clients and yourself. Follow these steps carefully – before long, you'll have crafted a unique personal brand that will stand out from the rest!
Measuring Your Success
When building your personal brand, one of the most critical steps is measuring success. This means setting goals and tracking your progress to measure whether you achieve the desired results. Clear objectives will make it easier to identify if something is or isn't working, allowing you to adjust accordingly and maximize your efforts. Tracking key metrics related to website visits, social media followers, likes/shares/comments, blog readership, etc., can help you understand where adjustments need to be made to maximize your returns. With proper measurement techniques, Salesforce Admins can hone their personal brand to stand out from others in the field and maximize their chances of success.
Step 1: Track Your Social Media Metrics
To measure your success, track your social media metrics such as followers, likes, comments, shares, and reach. This will give you an idea of how people engage with your content. Pay attention to trends or patterns in their behavior – what works and what doesn't? You can use this data to refine your content strategy and ensure it resonates with your target audience.
Step 2: Monitor Your Online Reputation
Your online reputation is vital when creating a personal brand that stands out. Setting up Google Alerts for your name and brand is one way to stay on top of any negative comments or reviews so you can respond promptly. You may also want to consider investing in reputation management software which can help monitor brand sentiment across different channels.
Step 3: Review Your Website Analytics
You should also review your website analytics regularly to see how much traffic you're getting, where it's coming from, and which pages attract more visits than others. This data can help inform future content marketing strategies, giving you maximum exposure for your personal brand. It will also provide valuable insights into how practical your current approach is at reaching the Salesforce Admin community.
Conclusion
Building your personal brand online is a crucial way to stand out as a Salesforce Admin. By defining your brand, creating high-quality content, building your online presence, and measuring your success, you can take your personal brand to the next level and open up new opportunities.
FAQs
Q: Can personal branding make a difference for Salesforce Admins?
A: Yes, building your personal brand online can help you stand out in a crowded market, enhance your professional reputation, and open up new opportunities.
Q: How can I define my unique selling proposition (USP)?
A: Think about what sets you apart from others in your field. Do you have a particular skill set or area of expertise? Are you known for your problem-solving abilities or your customer service skills? Once you've determined your USP, you can use it to shape your personal brand.
Q: What are some tips for creating high-quality content?
A: Your content should be well-written, informative, and engaging. Use visuals, such as images or videos, to make your content more exciting and memorable.
Q: How can I measure my success with personal branding?
A: You can measure your success by tracking your social media metrics, monitoring your online reputation, and reviewing your website analytics.
Q: Is networking really that important for personal branding?
A: Yes, networking is critical in building your personal brand. Attend conferences and events, connect with others on LinkedIn, and participate in online discussions and forums.