So You Want to Be a Salesforce Expert?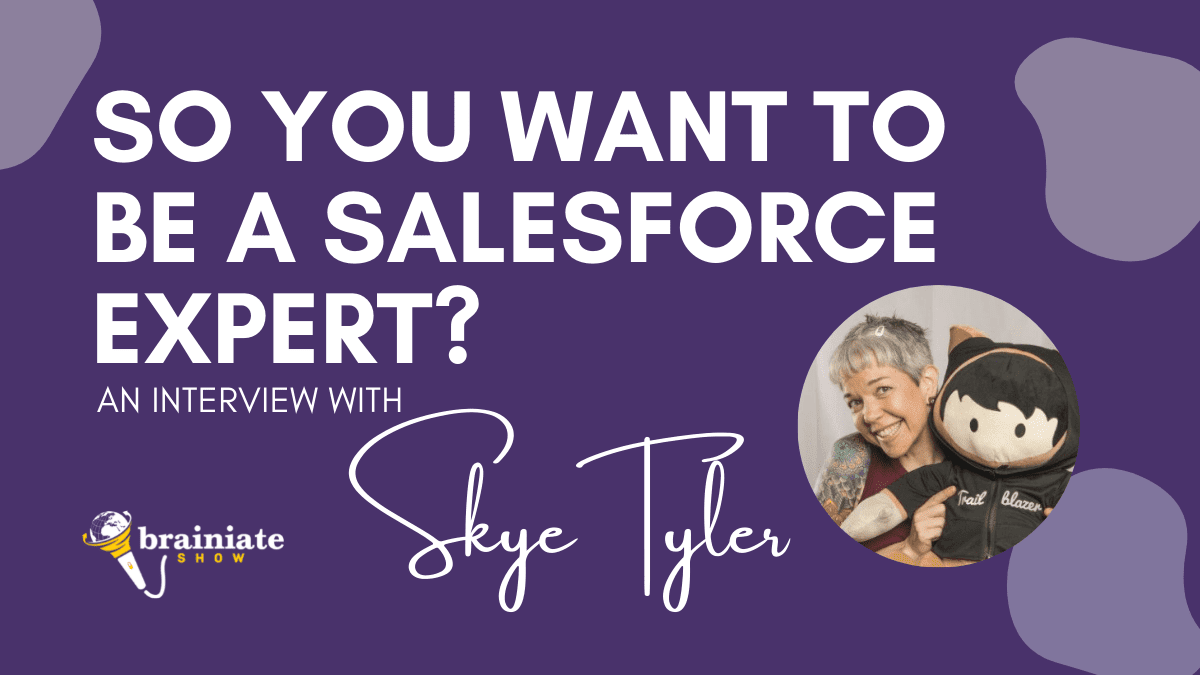 [et_pb_section][et_pb_row][et_pb_column type="4_4″][et_pb_text]
Many people have a hard time navigating their Salesforce careers. They don't know what to do with themselves, where to go, and how they should get there. To be successful at anything in life, you must have a strategy for attack – a plan that will get you off to a good start.
Skye Tyler is an expert on this topic and in this episode she shares her tips on how you can navigate your Salesforce career like a pro!
This podcast interview will give you all the tools necessary for success in your Salesforce career. You'll learn about everything from how to land your first Salesforce job, identify the skills you need, and network within the Salesforce Trailblazer Community to uncover some incredible career opportunities.
Some of the topics we chat about in this podcast include:
Skye's experience as a military spouse and introduction to the Salesforce environment.
Skye discusses how nonprofits can use Salesforce to be more successful to track their donors, donations, volunteers, constituents, and more.
Skye explains the Salesforce Military program, which offers support and resources to active duty military, veterans, and their families in order to get into the Salesforce realm.
How to get started in your Salesforce career path.
The power of self-reflection as a critical step when identifying your ideal career path.
Common career-related myths that newbies should be aware of.
The link between passing the Salesforce Certification exam and receiving job offers.
Is it reasonable to anticipate that your first Salesforce position will be in a senior capacity?
The unexpected benefit that job applicants obtain by starting their Salesforce career with an entry-level position.
To be a successful Salesforce rockstar, you must have excellent communication and leadership skills. Soft skills are essential in this field.
How to link your prior experiences to how you can leverage them to develop your Salesforce career.
Is social media hurting or helping you set reasonable expectations for what working in the Salesforce ecosystem is like?
Is it too late to get started in the Salesforce ecosystem for mid-career professionals?
How to leverage the Salesforce community for networking opportunities, and learning.
---
---
Key Resources Mentioned in This Podcast:
[/et_pb_text][/et_pb_column][/et_pb_row][/et_pb_section]