How Descript Can Streamline Your Salesforce Training Material Creation Process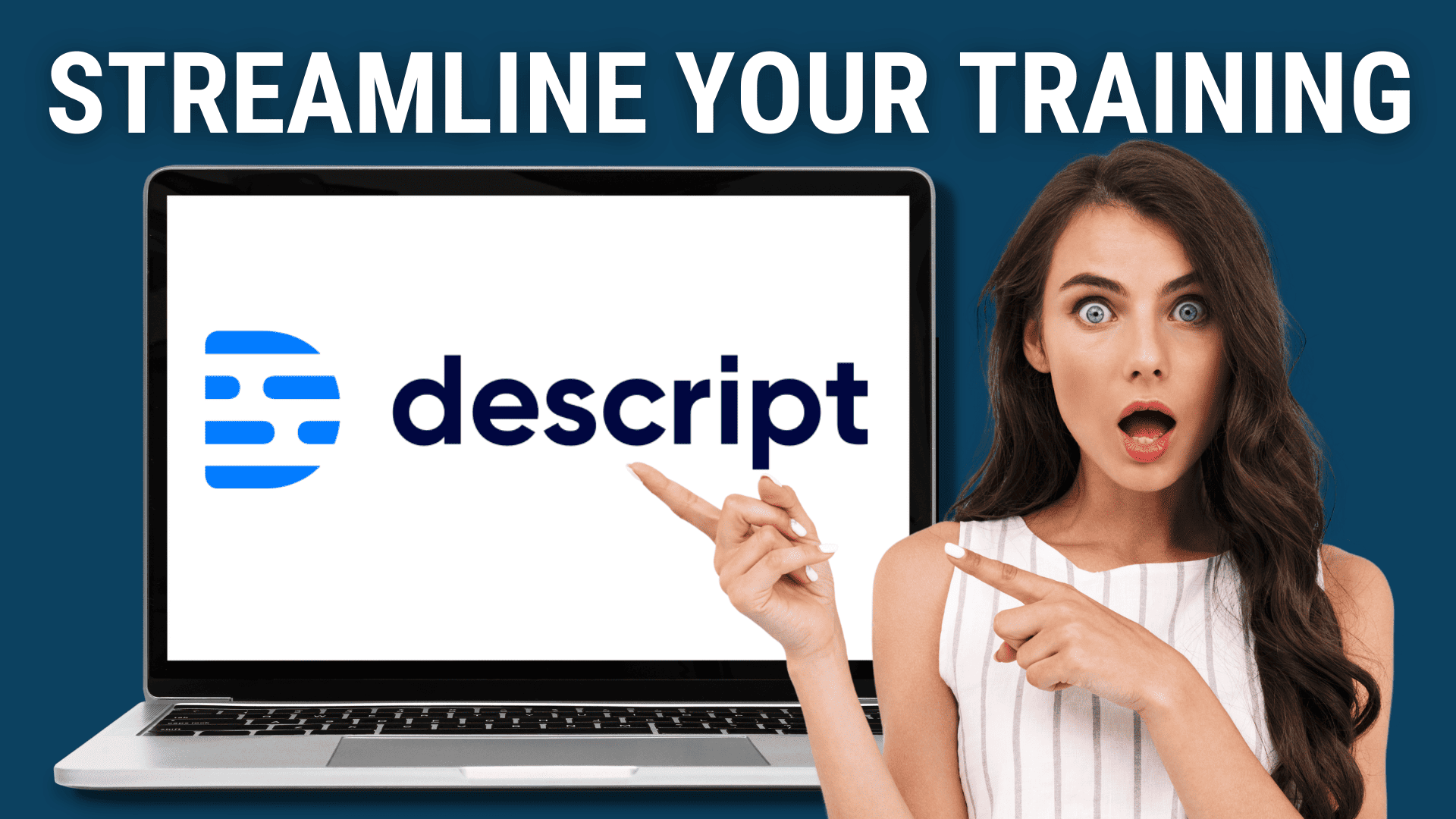 Introduction
As a Salesforce Admin, you know how important it is to create effective training materials for your users. But, let's be honest, creating high-quality training content can be time-consuming and overwhelming. The process can be tedious and frustrating, from recording sessions to transcribing and editing video content.
That's where Descript comes in.
In this article, we'll explore how Descript can revolutionize your Salesforce training material creation process, allowing you to effortlessly record and transcribe sessions, edit audio and video content seamlessly, and deliver exceptional training materials that enhance the learning experience.
Effortless Recording and Transcription
Are you tired of spending hours recording and transcribing your Salesforce training sessions? Descript can help streamline the process and save you valuable time. This software lets you record audio and video content directly from your desktop with just a few clicks.
But that's not all. Descript's AI-powered algorithm can accurately transcribe your content, even in noisy environments. This means you can focus on delivering the best training experience possible without worrying about the quality of your recordings. And because the transcription is done automatically, you won't have to waste any time manually transcribing your sessions.
Once your content has been transcribed, Descript makes editing and refining your training materials easy. You can easily delete unnecessary parts, rearrange content, and add captions or subtitles, just like editing a Google Doc!
These features work together seamlessly to help you deliver exceptional training resources in less time.
So if you're looking for a way to streamline your Salesforce training material by streamlining the creation process, try Descript. With effortless recording and transcription, you can enhance the learning experience for your team and deliver outstanding training resources.
Seamless Editing of Audio and Video Content
Say goodbye to the tedious and time-consuming task of editing your Salesforce training materials. With Descript, you can edit audio and video content seamlessly and with minimal effort. The platform's intuitive, user-friendly interface makes editing a breeze, as simple as editing any written document, without requiring learning complex video editing software.
Cut, copy, and paste audio and video clips by moving around or deleting transcription text to polish your training materials perfectly. Adjust your content's tempo, volume, and pitch to create a more engaging learning experience for your audience. You can also add music and sound effects to capture your audience's attention and hold their focus.
With Descript, you can effortlessly create visual content that enhances the learning experience. Adding engaging visuals to your training materials can create a more interactive and immersive training experience that engages your audience.
Streamline your Salesforce training material creation process with Descript's powerful editing capabilities. Say goodbye to difficult editing software and welcome a more accessible and efficient way to create exceptional training materials.
Collaboration Made Easy
Creating high-quality Salesforce training materials can be daunting, especially when it involves the support of multiple team members, partners, and subject matter experts located in different places. With its collaboration features, Descript makes it easy for you to work together and connect with your team members seamlessly and effectively.
One of the great features of Descript's collaboration functionality is sharing content with team members in real-time. Descript makes sharing content with your team incredibly easy so everyone can stay in sync, whether recorded audio or video files, transcripts, or written business documents. You can also leave comments and make revisions to the content within the app itself so everyone is on the same page.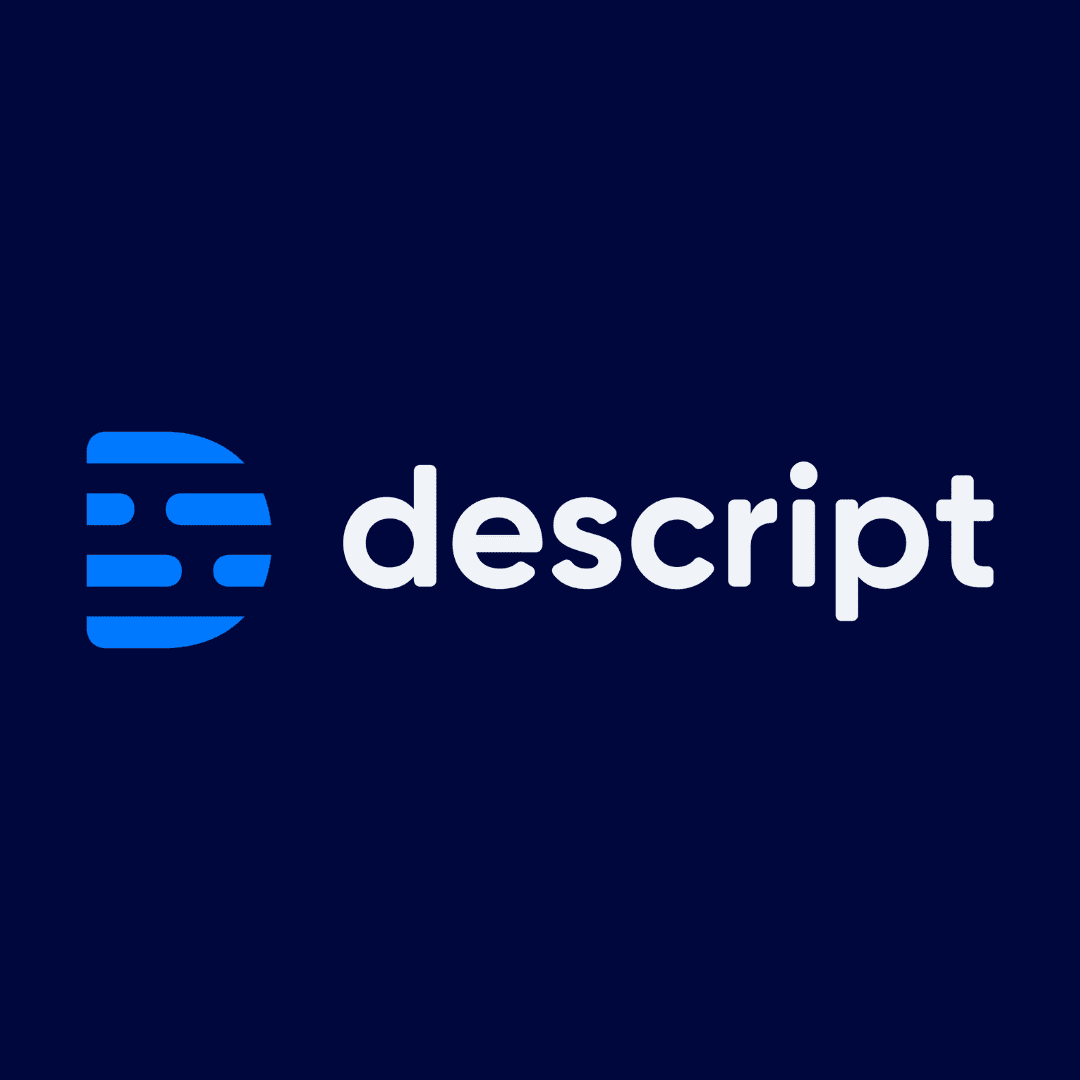 Descript
Editing videos is challenging, time-consuming, and frustrating. You have to learn new software and then figure out how to use that software to edit your videos.
Most people don't even bother editing their videos because it's too complicated and takes too much time. As a result, they end up with low-quality videos that don't represent their company well.
Descript makes video editing easy. With their simple drag-and-drop interface, you can edit your videos just like a Google Doc. Plus, they offer free training tutorials to get started immediately.
Use my affiliate link below to start a FREE trial, and you'll quickly realize why I love Descript!
Another great benefit of Descript's collaboration features is its secure cloud-based platform, which enables you and your team members to work from anywhere at any time. Whether working from the office, at home, or traveling abroad, your team can access the same content as you and work on it simultaneously.
Descript also provides a versioning and automatic backup feature that keeps the company on track with all changes made by team members. This means everyone can access the latest content and save time and effort by avoiding duplicated work.
Descript's collaboration features make connecting and working with your team members easier, streamlining your training materials creation and review process and ultimately delivering exceptional training for your Salesforce team.
Enhance the Learning Experience
A memorable and thought-provoking learning experience can make all the difference when training your Salesforce users. With Descript, you can take your training materials to the next level by creating engaging content that captures your users' attention and enhances their learning experience.
One of the many benefits of using Descript is the ability to add sound effects, annotations, callouts, animated GIFs, and stock video files to your training modules. These elements are proven to increase engagement and help users retain information better.
Whether you're training new Salesforce users or helping experienced ones expand their skill set, Descript can help you create training materials that are both enjoyable and informative. Its user-friendly interface makes editing audio or video content easy and adds elements that enhance the learning experience. With Descript, it's possible to revolutionize your Salesforce training material creation process and take your users' skills to the next level.
Descript's Key Features to Help You Create Training Materials Painlessly
Multimodal Editing
One of the most impressive features of Descript is its advanced multimodal editing technology capabilities.
This means you can edit audio, video, and even text in one seamless interface. Say goodbye to using multiple tools for editing different types of content! By embracing Descript, you'll enhance your Salesforce training materials and deliver an engaging learning experience for your colleagues.
With this advanced editing feature, you can transcribe your audio and video files, automatically generating text that can be easily edited in the same interface. This makes it easy to sift through your recorded content, remove unnecessary sections and perfect the entire transcript. You can also upload pre-existing transcripts directly in Descript and get started on the editing right away!
In addition to editing your audio tracks, Descript's video editing features allow you to enhance your footage easily. You no longer have to spend hours manually trimming and arranging your clips. Descript's algorithm can easily detect every cut in your uploaded video, making editing a breeze. From there, you can splice together footage, add background music, and more, all within the same interface.
Not to mention, Descript also allows you to export your edited content in various formats. Whether you need a polished training video, a snippet to upload on social media, or an audio file to share on your podcast – Descript has got you covered.
Descript's multimodal editing is a game changer for Salesforce admins looking to create exceptional training materials. With everything in one place and seamless editing capabilities, Descript makes it easy to create diverse educational content without compromising on quality.
Automatic Transcription
One of the most time-consuming tasks in creating training materials is transcribing audio recordings or videos into text. With Descript, this becomes a breeze! The automatic transcription feature can transcribe your audio or video recordings into text accurately and quickly, saving you considerable time.
Not only does this save time, but it also makes your training materials accessible to a broader range of learners, including those with hearing impairments who rely on closed captions. By making your content accessible, you create a more inclusive and diverse learning experience for all.
Moreover, the transcription feature of Descript gives you a searchable, editable, and shareable text document that can be used for future reference or as part of a larger project. This transcription tool can save you significant effort and resources, allowing you to create more training materials in less time.
In conclusion, the automatic transcription feature of Descript streamlines the process of creating Salesforce training materials while ensuring they are accessible to everyone. By using this feature, you're taking a significant step towards enhancing the learning experience of your audience, making your training materials more effective and cost-efficient.
Overdub Technology
If you want to take your Salesforce training resources and material creation to the next generation level, then Descript has covered you with their Overdub technology. This feature is a game-changer when creating audio narration for your Salesforce training resources and materials.
What makes Overdub so special is that Descript's text-to-speech technology allows you to easily change or add to your audio narration with just a few clicks. All you have to do is type out the new text you want to add, and Descript will generate the audio in your voice.
Not only is this a game-changer for saving valuable time in post-production, but it also enables professionals and you to create a more cohesive and personalized learning experience for your audience. Adding your voice and inflection can help build rapport and connection with your learners, making it easier for them to retain and apply the information presented.
The best part about Overdub is that it's incredibly easy to use, even for those with limited audio editing experience. With this technology, you don't need to be an audio guru to create professional-grade training materials. Simply type out the text that you want to add or change, and let Descript do the rest.
Descript's Overdub technology is worth checking out to streamline your Salesforce training material creation process and enhance learners' experience. Try it, and see how it can revolutionize your training material creation game.
Screen Recording and Webcam Capture
Use the Screen Recording and Webcam Capture feature to create engaging video tutorials or demos directly within Descript. The magic happens when Descript automatically transcribes your narration, letting you edit or repurpose your content quickly and seamlessly.
Whether teaching a new Salesforce feature or delivering training for a new team, this feature lets you capture your computer screen or record yourself with a webcam. The streamlined creation process will significantly reduce your workload and enhance the learning experience for your team.
Descript makes it easy to capture your demonstration or tutorial and create the training materials your team needs. With this feature, you can create compelling videos quickly, and your team can learn at their own pace.
Say goodbye to long, tedious hours spent creating training materials with traditional tools. Say hello to Descript and streamline your Salesforce training material creation process.
Highlights
One of the most remarkable features of Descript is its ability to help you easily locate and organize important content. Wouldn't it be amazing to have the ability to highlight and label key sections of your transcripts? Well, Descript has made this a reality.
With Descript, you can now highlight and label important parts of your transcripts, making it easier to locate and refer to them later. So, whether preparing training materials or outlining a report, you can easily mark critical information and return it to them whenever needed.
Did I mention that you can also search for specific terms or phrases in your transcript and locate answers to them instantly? That's right!
Descript makes finding the exact information you're looking for simple, which can be helpful when dealing with large volumes of content.
Moreover, Descript's highlighting and labeling features are helpful when working with a team on a shared project. You can easily communicate with your team members, and they can quickly understand which parts of the transcripts they need to focus on. With Descript, you can keep everyone on the same page, and the final material will be more cohesive and organized.
In conclusion, Descript's highlighting and labeling features are game-changers in training material creation. They allow you to effortlessly locate and organize important content, enhancing the learning experience for your audience. So why not give Descript a try? Your Salesforce training materials will never be the same!
Collaborative Editing
Not only is Descript an incredibly intuitive tool for creating Salesforce training materials, but it also offers a significant benefit that cannot be ignored – collaborative editing. This feature allows multiple users to work on the same project simultaneously, making it perfect for group projects where several educators may be contributing to the same course material.
Multiple educators can work on the same project in real time with collaborative editing. This means that everyone can see each other's changes, and each user can add their own notes and suggestions. This makes communication and teamwork a breeze, especially when dealing with multiple people and diverse skill sets.
Working in teams on Descript allows for a more streamlined project management process. Educators in group projects can chat and share their ideas in real time, making the entire system more efficient and effective. Descript's collaborative editing feature promotes accountability, which is critical in an educational context where each educator is responsible for delivering excellent training material.
Moreover, the collaborative editing feature helps educators create more diverse and comprehensive course material. If multiple educators are working on a course, for example, they can each bring their own unique skills, perspectives, and experience to the material. Therefore, the entire course will contain a wealth of knowledge from all the educators involved.
In conclusion, collaborative editing means the Descript platform can revolutionize how we create Salesforce training materials. Descript promotes accountability, efficiency, and excellence in student training material creation by bringing educators together. It also creates an environment where educators can effortlessly collaborate and contribute their unique knowledge, creating a richer student learning experience.
Publishing and Sharing Options
Once you've finished editing your Salesforce training material with Descript, it's time to publish and share it with your team. And luckily, Descript makes this incredibly easy to do.
First and foremost, you can export your project to various formats, depending on your needs. For example, you can export your training material as an MP4 or MOV video or audio file, such as an MP3 or WAV. This allows you to seamlessly integrate your training material into your existing tools and platforms.
But if you'd rather publish your content directly to a platform, Descript has you covered there too. You can publish your material to various platforms, including YouTube, Vimeo, and Wistia. This is great if you're looking to create a centralized hub for your courses, classes, and training materials or if you'd like to incorporate your content into an existing course or class curriculum.
You can also share your project via a link if you don't need to integrate your material into a whole site or larger system. This allows your team and partners to view and access your material online completely free without downloading or installing anything.
No matter how you share your content, Descript makes it easy to ensure a consistent and quality learning experience for your team.
Comments and Annotations
Have you ever experienced a frustrating moment when you've spent hours creating a Salesforce training material, only to discover that it needed extensive revisions? Or maybe you're part of a team working on a collaborative training or research project and often need to provide feedback to your colleagues.
Descript can simplify this process thanks to its comment and annotation features. You can mark areas needing revision or add specific notes for feedback that will appear alongside your audio and video content.
Why is this important? You can collaborate with instructors to create exceptional training courses and materials by facilitating these annotations. Plus, you'll save time by avoiding reviewing and revising already covered courses and content.
Additionally, Descript's comments and annotations are not limited to text — you can add images, graphics, or links to related resources. This adds a lot of value to your Salesforce training materials, enhancing the overall learning experience for your learners.
Incorporating Descript's comments and annotations feature into your Salesforce training materials streamlines the creation process and helps improve collaboration and interaction to make training more effective. Try it out, and watch your training materials' engagement level skyrocket!
Conclusion
Creating effective Salesforce training materials requires time, effort, and expertise. But, with Descript, you can streamline the process and create high-quality content that enhances the learning experience for your users. Whether recording sessions, transcribing content, or editing audio and video material, Descript provides a comprehensive solution that makes it easy for Salesforce admins to create engaging, interactive training materials. So, why wait? Try Descript today, and take your Salesforce training to the next level!