Why Businesses Want to Use Salesforce Einstein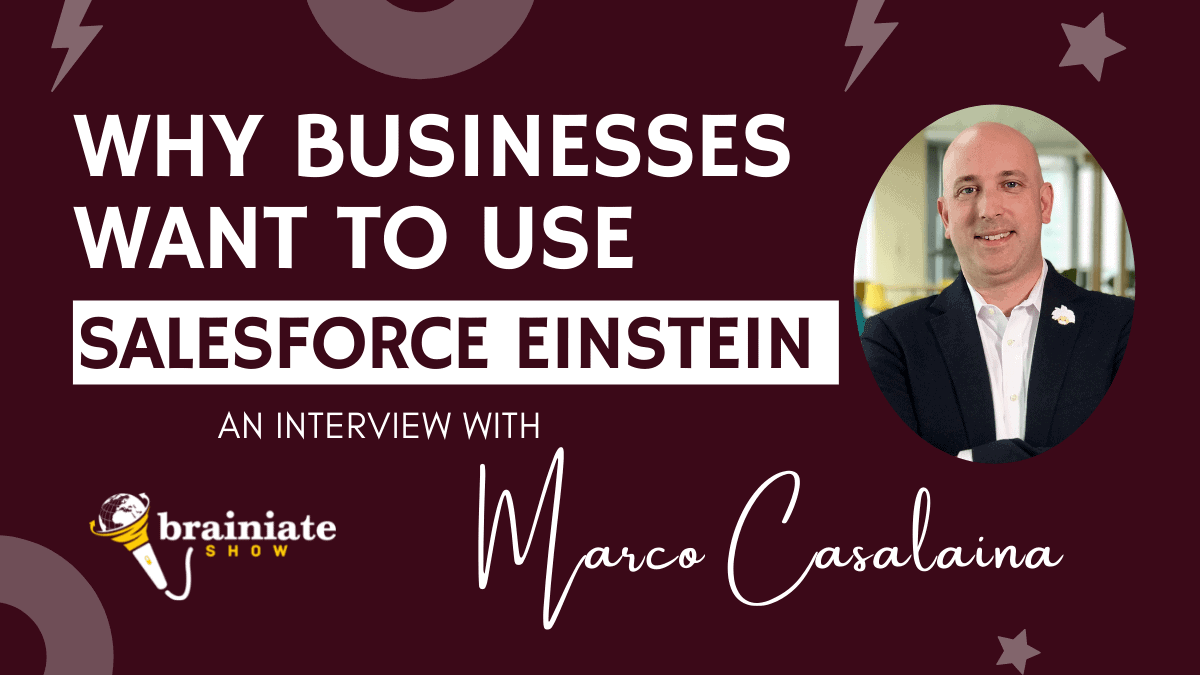 In this podcast, Salesforce's SVP of Product Management and GM of Einstein, Marco Casalaina discusses how AI is revolutionizing the way businesses interact with their data.
Casalaina talks about major advances in machine learning that can now do some work for us more effectively than humans ever could before. One example is Einstein Lead Scoring. The Einstein AI platform creates a model for each lead in Salesforce, to help organizations prioritize their prospects based on data that's unique to them.
Listen to this podcast episode to learn more about:
Salesforce Einstein and the varied used cases where AI can help your team work more efficiently.
Connected data is benefits team members in any area of the organization.
How AI allows your customers to get better service.
Getting the most out of your investment in Salesforce by interacting with data more efficiently.
Using AI to boost collaboration and get work done quickly.
Staying on top of customer service issues with less manual categorization and classification (and routing) of tickets.
---
---
Summary of topics discussed in this podcast:
Topics:
What is Einstein?
Anyone can start using Einstein Search, which is FREE, out of the box, in Lightning
Einstein – for each cloud
Sales Cloud Einstein:

Opportunity scoring is available to everyone
Conversation insights

Call coaching (for calls and Zoom meetings)
Customer sentiments

Lead Scoring

Einstein determining if the lead will convert or not

Service Cloud

Case Classification
Case routing
Einstein case classification is available now, completely free, in Lightning
How Einstein and AI might have an impact on people's jobs

The future of Artificial Intelligence
Trailhead: trailhead.einstein.com
Marketing Cloud

Engagement Scoring
Send time optimization

Commerce Cloud
Einstein Builders

Prediction Builder
Recommendation Builder
Next Best Action
---
ADDITIONAL RESOURCES FOR YOU:
???? Get the Brainiate Show Live on your weekly calendar!
???? Join the Brainiate Slack Community
???? Join the Brainiate Facebook Group
???? Subscribe to the Brainiate YouTube Channel
???? Subscribe to the Brainiate Show on Spotify
???? Enroll in my Salesforce Admin Bootcamp!