How to Start a Career as a Salesforce Admin: FAQs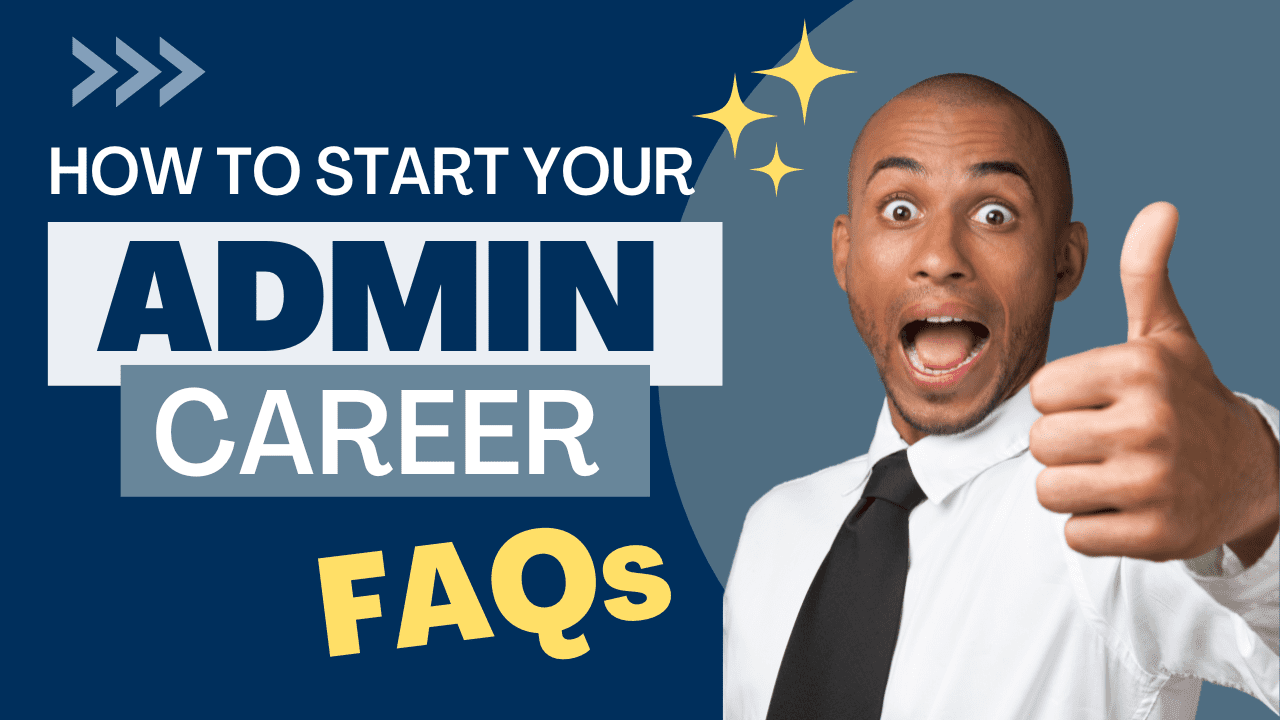 Are you thinking of starting a career as a Salesforce Admin?
This might be intimidating, but don't worry; this guide aims to answer many frequently asked questions (FAQs) people have when they consider working in a Salesforce Administrator career.
Read on to learn more about what's involved with becoming a successful Salesforce Admin and how you can get started today!
How to Get Started in Your Salesforce Admin Career
Can I get a Salesforce job with no experience?
Landing a Salesforce Admin job without experience can seem impossible, but it is not!

With some hard work and dedication, you can start your career as a Salesforce Admin quicker than you think.

The first step is to familiarize yourself with the platform by taking as many free resources and tutorials as possible and networking with people already in the field. You may even consider joining user groups or attending certifications if you're willing to invest time and money into your education.

When interviewing for a role, be prepared to demonstrate enthusiasm and knowledge of the platform so that employers are confident in your ability to learn quickly on the job.

Set yourself apart in this career, and don't doubt your capabilities – with the proper preparation, you will succeed in your Salesforce Admin journey!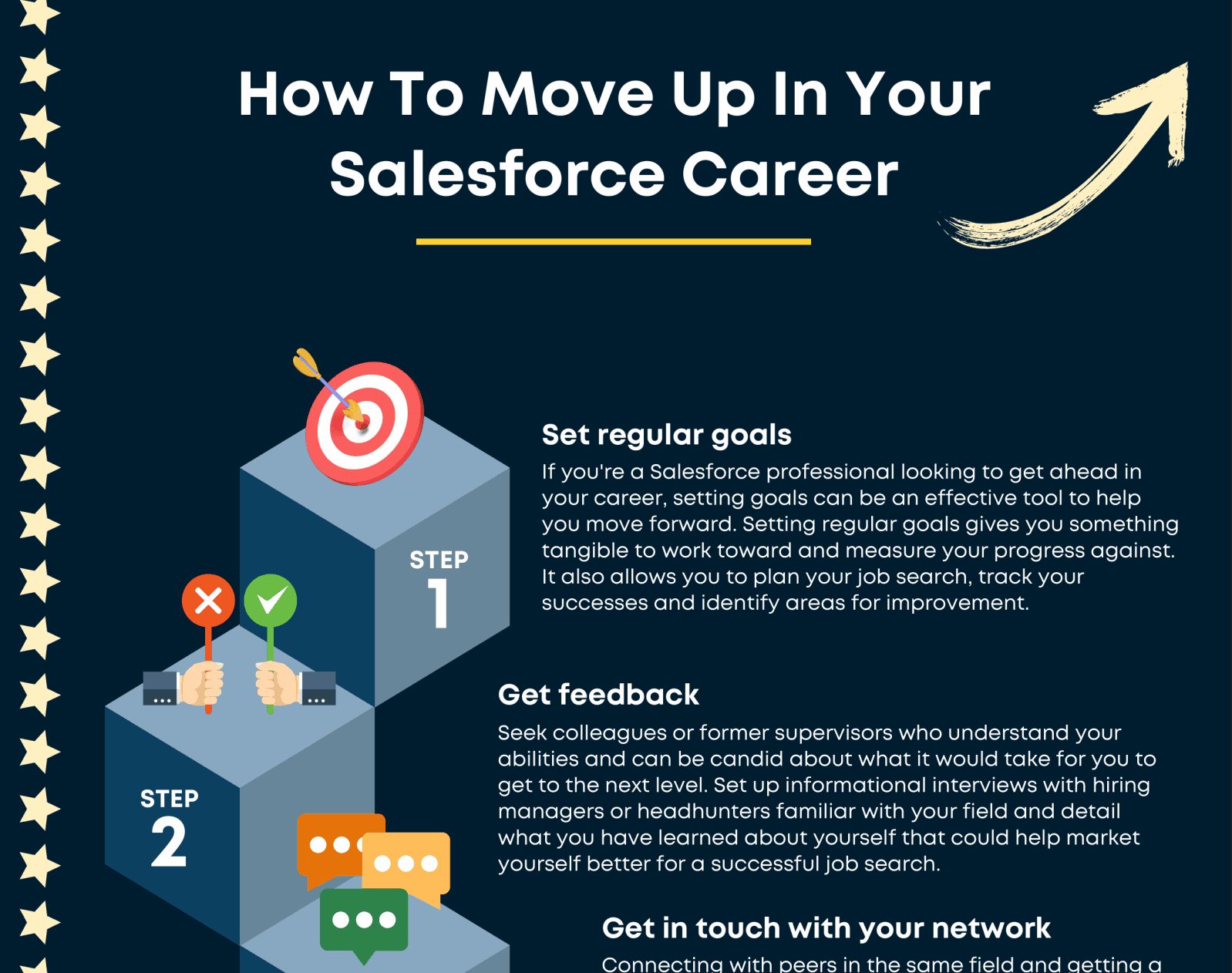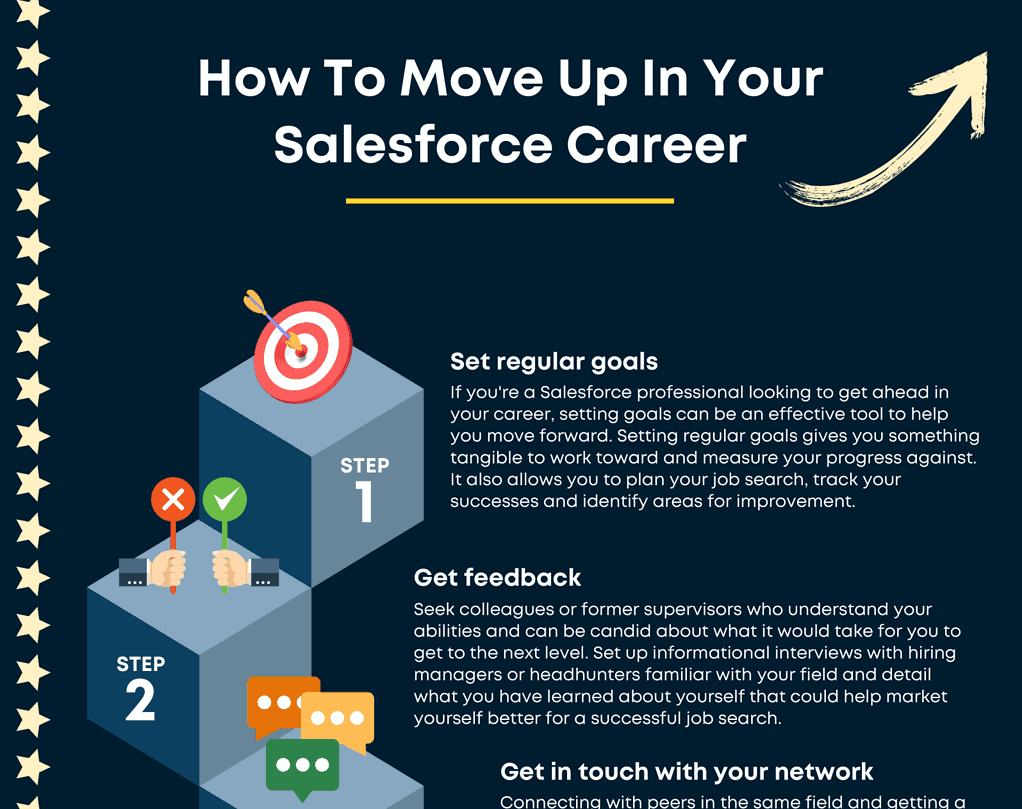 Free checklist: How to Move up in your Salesforce career
If you're looking for a Salesforce job, trying to improve your career and boost your income, you'll want to download this checklist!
With easy-to-follow and practical advice, this checklist will give you the roadmap to follow to position your Salesforce career for success!
Can a fresher become a Salesforce Admin?
Becoming a Salesforce Admin is achievable, even if you are starting fresh with no prior experience!

With the help of readily available resources, courses, and certifications to your advantage, there is nothing stopping anyone from being a successful Salesforce Admin.

It will take some dedication and effort, but when you start with guidance from community forums and peers, it's possible to get your career moving quickly.

All it takes is work, dedication, and self-motivation to stay consistent with your learning and ask questions when needed so that you're successful in this career!
How do I start a career as a Salesforce Admin?
Are you interested in becoming a Salesforce admin?

It is a great career that can be very satisfying!

I would recommend researching online and understanding the Salesforce platform to get started. You should also create a Salesforce Trailhead account, as it will give you access to free training courses, badges, and certificates to gain more knowledge and experience.

Once you have obtained the relevant certifications, try networking with industry professionals to get your foot in the door.

With hard work and dedication, you can quickly build a successful career as a Salesforce admin!
Is Salesforce Admin a good career option?
Salesforce Administration is an attractive career option due to its versatility and potential for upward mobility.
With a large base of users spread throughout a variety of industries, there's no shortage of demand for skilled Salesforce admins.
Professionals looking to break into the industry have an edge with the Salesforce Certified Administrator designation, which provides demonstrable recognition of a working knowledge of this popular cloud-based CRM system.
With its wide availability, scalability, and frequent feature updates, Salesforce provides admins with a challenging yet rewarding environment in which to grow. Whatever your goals may be, from entry-level career launches to the highest job growth positions available in the IT sector, becoming a Salesforce Admin is sure to keep you busy!
Is it hard to get a job as a Salesforce Admin?
Finding a job as a Salesforce Admin can be tricky, but with proper preparation, almost anyone can succeed. With many companies looking to transition to or become more proficient with Salesforce, now is the perfect time to put your skills to work and find a great job.

A successful Salesforce Admin will need a comprehensive understanding of the platform's features to help bridge the gap between business and technical requirements, so developing both technical aptitude and an eye for customer relations is critical.

All that effort can pay off if you spend time exploring career opportunities and solidifying professional relationships while actively learning all possible with Salesforce. With the right experience and skills, landing a Salesforce Admin job shouldn't be difficult.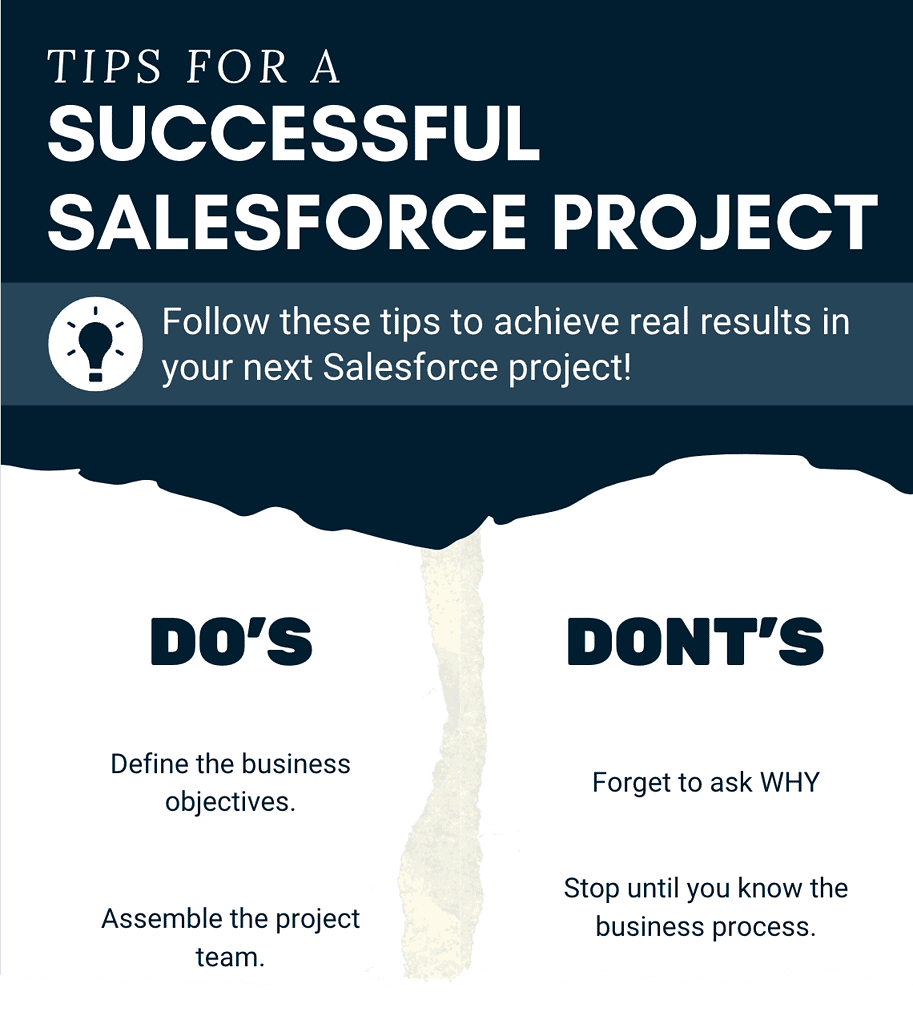 Grab this cheat sheet!
Salesforce projects can be overwhelming and hard to manage, but they can be successful with the right tools and information.
It's easy to feel overwhelmed when juggling a million things simultaneously.
Download my cheat sheet and follow these simple steps to ensure your next Salesforce project is successful.
What is the career path for a Salesforce Admin?
A career path as a Salesforce Admin could be enjoyable and rewarding for those seeking to work in IT, customer service, and project management.

It is an ever-evolving field where one must constantly stay abreast of new technology, methods, and best practices.

To begin their journey in the Salesforce world, Admins need to become certified, typically through an online course.

Experience can also be gained from internships or entry-level positions performing administrative duties such as data entry or troubleshooting user problems.

As Admins become more experienced with the program, they can move into positions such as Project Manager or Director of Application Development. With training and experience, Salesforce Admins can write their ticket to develop a rewarding career.
Is Salesforce Admin a stressful job?
Being a Salesforce Admin can be both exciting and stressful.

On the one hand, it is a fantastic opportunity to help businesses make their processes more efficient. But on the other hand, it can be hard work.

Like any job in technology, you often need quick decisions on various IT-related tasks, such as setting up systems and assisting with user issues.

If you are familiar with the Salesforce platform, things are much more accessible, but getting yourself to that level can take time and effort.

So if you decide that this career path is right for you, know there will be stressful moments and many rewarding ones!
What is the fastest way to become Salesforce administrator?
If you're looking to become a Salesforce Administrator as quickly as possible, there are a few key steps you'll need to take.

First, it's essential to understand the fundamentals of Salesforce; get familiar with the platform and some of the most popular features.

You may also want to acquire certifications such as Salesforce Certified Administrator or Platform App Builder, which can help boost your resume.

Plenty of materials are available for self-study, so be sure to pick up any books or enroll in online courses that you think might be helpful.

Additionally, Salesforce's Trailhead program has interactive modules and tutorials that will help you get up to speed on the platform. You can learn more about Salesforce Trailhead here.

After leveraging these materials, you should be well on your path to becoming a certified Salesforce Administrator!
Can a non-it person become Salesforce administrator?
Yes, absolutely!
Salesforce Administrator roles have become increasingly popular and in demand amongst employers due to the growing need for organizations to organize and manage customer data.
It's an excellent opportunity for non-IT people to enter this fast-growing market.
With some training and education, anyone can delve into the fascinating world of Salesforce Administration – all you need is the right blend of knowledge, problem-solving skills, dedication, and commitment!
Though the technological aspect can initially seem overwhelming, with the proper guidance, you'll soon feel confident enough to take on almost any challenge. Furthermore, many online resources are dedicated to learning more about Salesforce Administration, making it easy for anyone to get started.
Can I learn how to be a Salesforce Admin on my own?
Learning to be a Salesforce Admin is achievable by taking the proper steps.

You can acquire knowledge and learning resources to make it happen.

Technology gives us access to tremendous amounts of information that are free of charge and updated regularly.

There are tutorials from experienced admins, forums with user questions and answers, technical articles featuring best practices, and much more!

With patience, focus, and dedication, you will have the resources you need to master Salesforce.

So if you want to become a Salesforce Admin, take this opportunity and explore the potential of self-learning!
Which Salesforce position pays the most?
As the market's most popular customer relationship management platform, Salesforce Admins are in high demand and command significant salaries.

The position within the Salesforce Admin field that pays the most depends on factors such as industry and geographic location.

On average, potential employers tend to value experience over position titles regarding compensation packages, so gaining advanced certifications or many years of experience in this field will increase your chances of claiming a higher salary. Remember that having multiple certifications without hands-on experience will be challenging.

To secure the best position, you must focus on landing an entry-level position to gain the hands-on experience needed.

If you're starting in this career, consider pursuing internships or an apprenticeship program – both can help you build necessary practical skills while giving you the footing you need to earn higher wages.
Is learning Salesforce administration worth it?
Learning Salesforce Administration can be an enriching experience!

With the proper guidance, you can quickly become well-versed in one of the leading CRM platforms used today and gain access to tremendous career opportunities.

As Salesforce Administration continues to become increasingly valuable, employers are eager to find professionals with advanced skills in the field who can help guide their organization toward digital transformation.

Furthermore, since this job market is still relatively small and competitive, it may provide an edge over other applicants during job searches.

So if you're considering expanding your business knowledge and passionate about staying up to date on cutting-edge technology, learning Salesforce Administration may be precisely what you've been looking for.
Does a career as a Salesforce Admin require coding?
If you're considering a career as a Salesforce Admin, you may wonder whether coding is necessary.

The answer is yes and no – depending on the type of project!

If your job requires implementation, customizing, or scripting of applications within Salesforce, then it's helpful to have some coding knowledge.

However, mastery over code isn't always necessary for the job.

Even without coding skills, Salesforce Admins can create dashboards and reports from the data in the system, introduce dramatic and transformative customizations and enhancements, perform extensive platform maintenance and troubleshooting tasks like resetting passwords, or use declarative tools like to build impressive automation in Salesforce.

So while coding may be helpful in certain circumstances, it's certainly not essential!
Are Salesforce admins in demand?

Are Salesforce admins in demand? Absolutely!

The job market is always looking for skilled tech professionals.

Salesforce Admins have exceptional skill sets that allow them to successfully manage customers, create and develop user-friendly apps, maintain the Salesforce infrastructure, and suggest optimizing the system.

With the ever-growing popularity of cloud computing, there has been a surge in job opportunities for qualified Salesforce Administrators.

Companies worldwide are looking for individuals with experience to join their staff as they expand into this technology.

If you're interested in getting involved with Salesforce Admin work, now is a fantastic time to start your Salesforce career and jump into the job market!
Which one is better, Salesforce Admin or developer?

The Salesforce Admin and Developer work are both great positions, but they are different.

For those looking for more of a general role in administering the Salesforce system, the Salesforce Admin path is likely your best option.

On the other hand, if you have a more technical background with an aptitude for developing software, then becoming a Salesforce Developer would be ideal.

The work can offer some similarities; both require strong problem-solving and communication skills.

However, if you are someone who thrives on customization and development work over implementation and management tasks, then the developer route might be calling your name!

Either way, by exploring Trailhead, you can start your Salesforce career by learning the differences between the Admin and Developer roles.
How Many days Will it take to learn to be a Salesforce Admin?
Figuring out how to become a Salesforce Admin can be daunting, but it doesn't have to be.

How long it takes to learn depends mainly on your work ethic and the resources you use.

With self-guided study and a little work each day, most people can complete an introduction to Salesforce Administration course in about two weeks.

With additional work beyond that, mastering concepts like security administration and automation will take longer.

However, with dedication and work, you'll find that you've learned the necessary skills to work as a Salesforce Admin within six months.

Start your Salesforce career today by signing up for an online course, and you'll have already taken the most critical step in starting this journey.

Good luck!
Are there too Many Salesforce admins?
In the ever-evolving world of technology, it's always beneficial to have more knowledgeable Salesforce Administrators in the workforce. If you're eager to start your Salesforce career, this should not be holding you back.

With a wide range of work opportunities and applications for such Admins available today, from User Interface Design to Custom Objects, having experience in some or all aspects of this powerful enterprise platform can be a significant advantage in work roles.

Although there might be many individuals with Salesforce Administration skills already, there's still plenty of demand for new Admins that can bring fresh ideas and innovative ways to tackle work tasks and challenges.

There are times when having too many skilled people could leave organizations overstaffed temporarily at peak periods, but that doesn't diminish the value that Salesforce Admins bring to work environments.
Can Salesforce admins work remotely?
Working remotely is more common than ever in the professional world, and Salesforce Admins are no different – they are as capable as anyone of doing work from a home office.

By leveraging the robust nature of Salesforce, Admin work can be instrumental and efficient from anywhere with an internet connection.

Even better yet, since Salesforce work is often based upon incidents, projects, and tasks, much of the work process is already an isolated activity that does not always require meetings with co-workers.

This makes the work remote-friendly no matter the angle you look at it. Depending on the company culture, there's no reason why you can't start your Salesforce career from the comforts of your home!

With the right creativity and collaboration, Salesforce Admins can make remote work successful!
The Fastest Way to Learn Salesforce Administration
Free Content on Trailhead to Learn Salesforce
Career Guides for New Salesforce Admins (Amazon)
Sale
Sale
Sale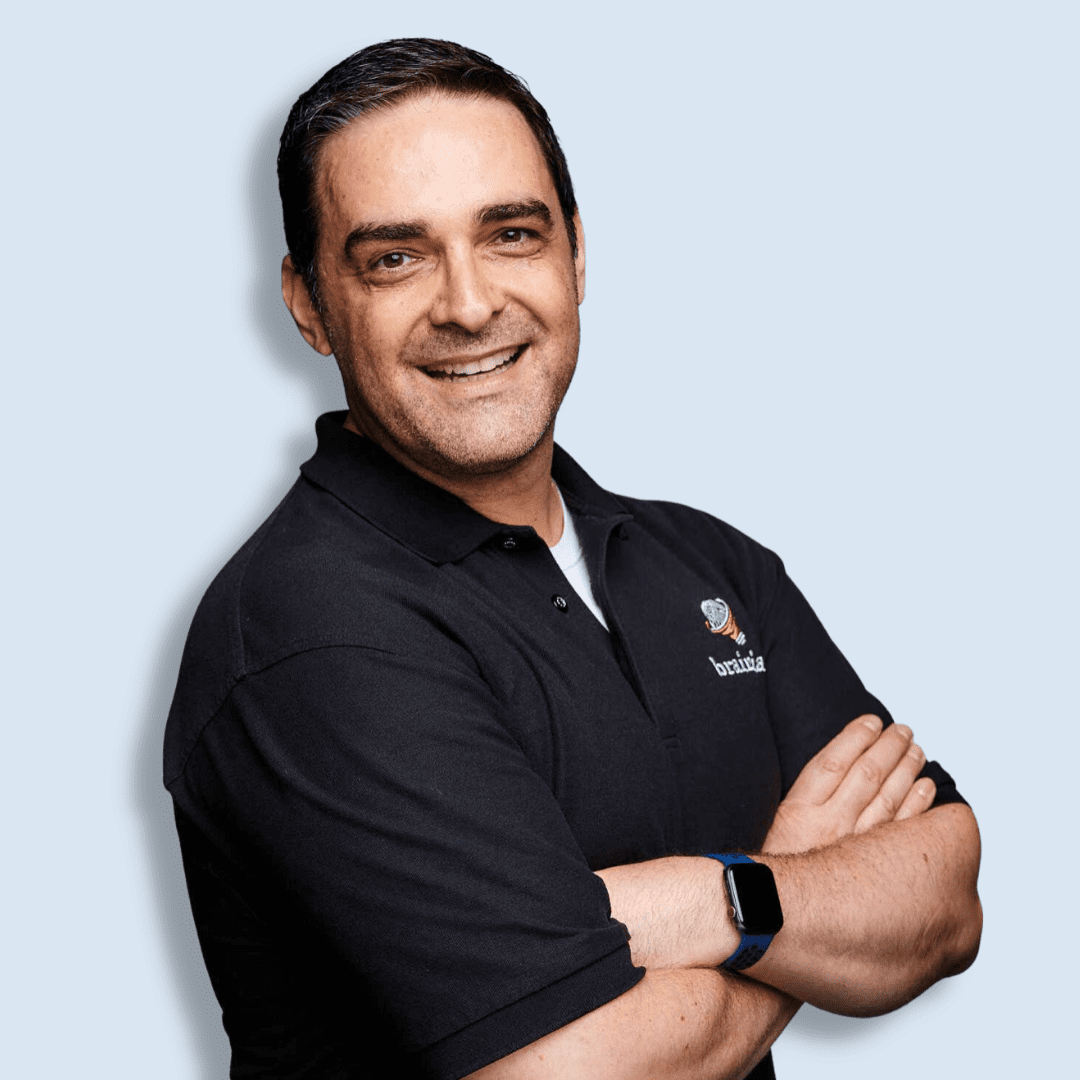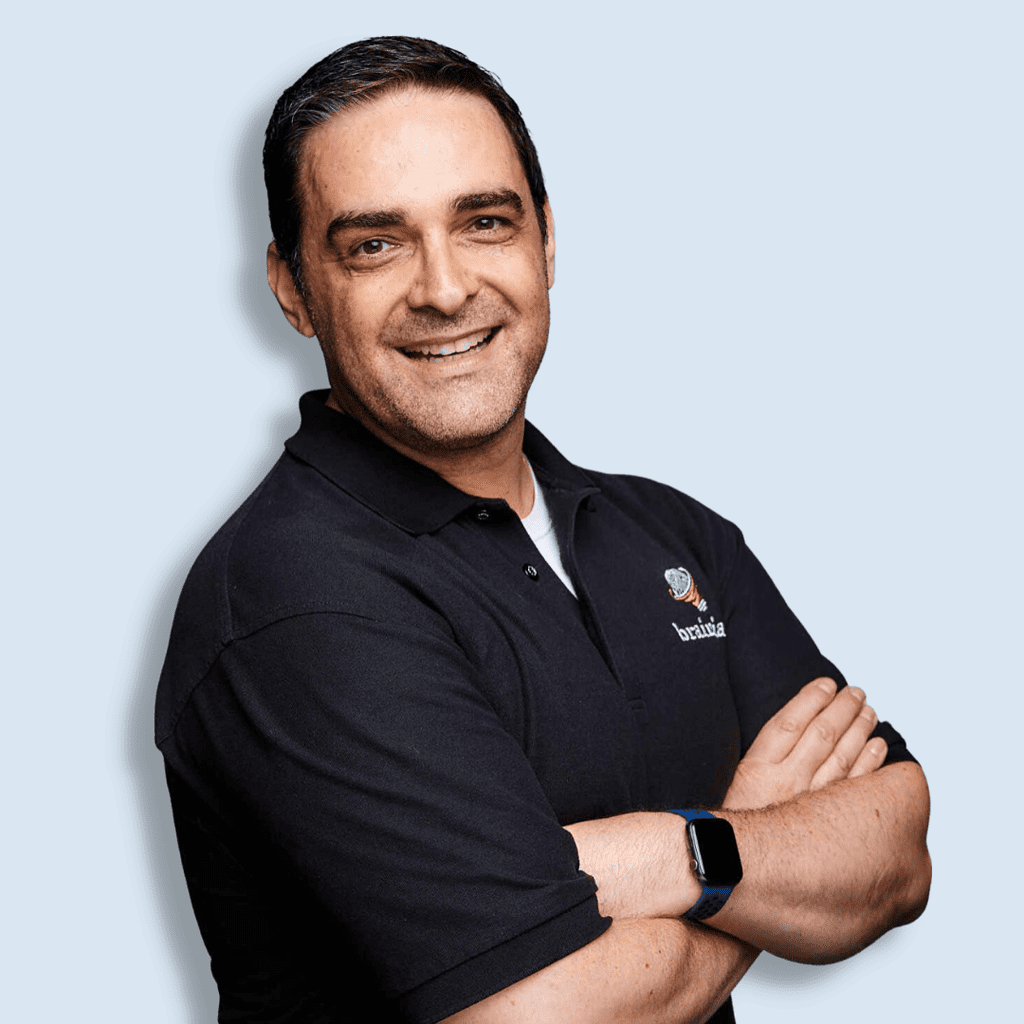 Get practical Salesforce advice in your inbox!
Feeling overwhelmed by everything you have to do as a Salesforce Admin?
I know how it feels.
I created the FREE Brainiate Newsletter – to help you stay up-to-date with the latest Salesforce news, advice, and product recommendations.
Sign up for my newsletter and get all that information right in your inbox – without having to search for it yourself. You'll be able to focus on your projects with peace of mind, knowing you're always up-to-date on the latest Salesforce updates.
Click the button below and sign up for my FREE Brainiate Newsletter today!