Finally! The Secret to Getting Your First Salesforce Job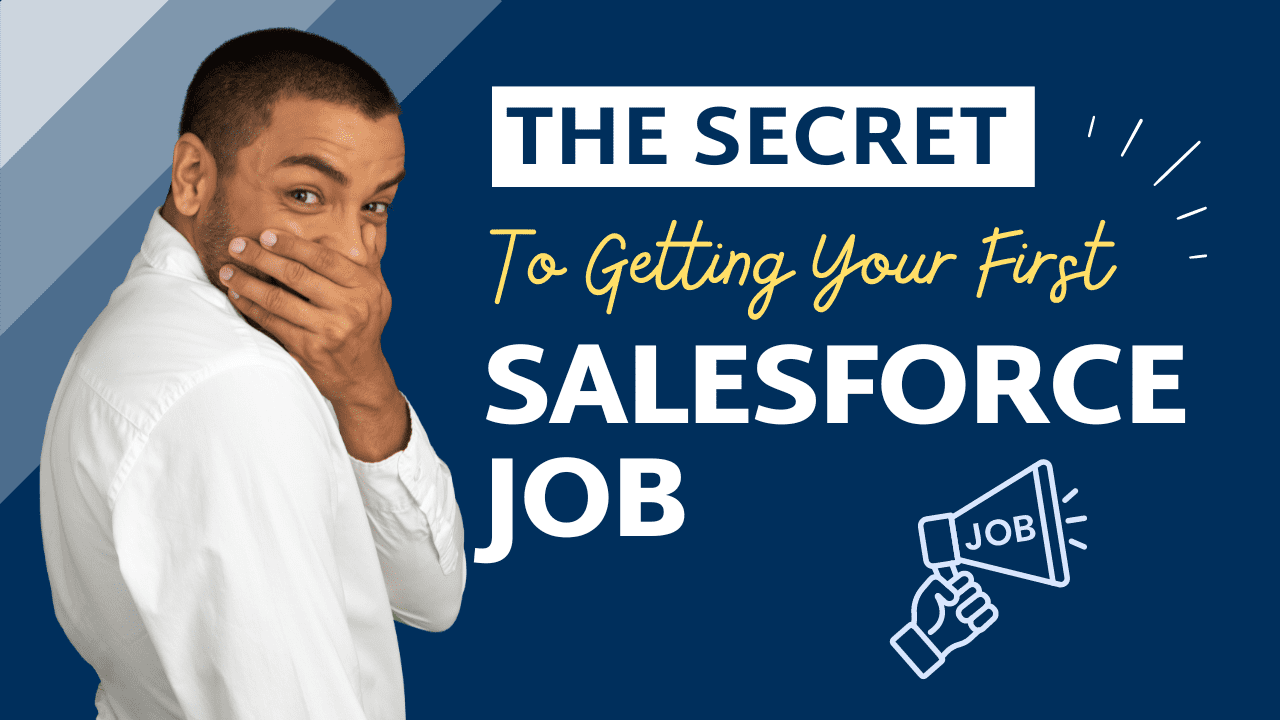 Are you frustrated because months have passed and you can't seem to land a job as a Salesforce Admin?
Do all the other candidates out there know something that you don't?
Are you worried that getting your first role in Salesforce isn't meant for you?
Stop worrying!
Here's some exciting news: the secret to securing your first Salesforce job isn't mysterious or unattainable. It's much closer than you ever thought.
In this post, we'll show how leveraging specific skills, experiences, and personal strengths can help make finding your first venture into the world of Admin roles a reality.
So buckle up, grab a cup of coffee, and come along with us as we journey down this life-changing road.
Introduction
Finding an entry-level job as a Salesforce professional with one or more certifications but no hands-on experience in the real world can be a challenging and intimidating experience. Many employers prefer to hire candidates who have prior experience and specific qualifications. For those without experience, it can be difficult to demonstrate their knowledge and understanding of Salesforce technologies to employers.
In addition to the lack of prior experience or specific qualifications, potential Salesforce professionals must also face the challenge of competing for entry-level positions against experienced professionals who may have been using Salesforce for multiple years.
Experience is critical in convincing employers that a candidate has valuable expertise that can help them achieve success. This can put inexperienced candidates at a disadvantage when trying to showcase their abilities and match their skill set to a particular role. 
Furthermore, many job postings may list certifications as a requirement for job applicants, adding another hurdle for inexperienced candidates who have not yet completed certifications. Certifications provide tangible evidence that the applicant knows the steps necessary to perform duties associated with a particular role and prove that they are qualified enough to get hired. Without completing certifications, inexperienced candidates risk missing out on various available opportunities.
Finally, inexperience also makes it difficult for potential employers to gauge where an individual stands regarding competency within Salesforce technologies. Candidates without hands-on experience will question how much knowledge they possess and whether they would fit in nicely with other team members. With no proof of expertise or past performance reviews, it can be more challenging for employers to make an informed decision about hiring these individuals into the organization.
Finding an entry-level job as a Salesforce professional with one or more certifications but no hands-on experience in the real world is very challenging due to these various factors outlined above. While becoming certified certainly helps candidates demonstrate their knowledge and understanding of essential concepts needed for success within this field, many aspects still need special attention while applying for jobs to have the best chances of landing their first dream Salesforce job!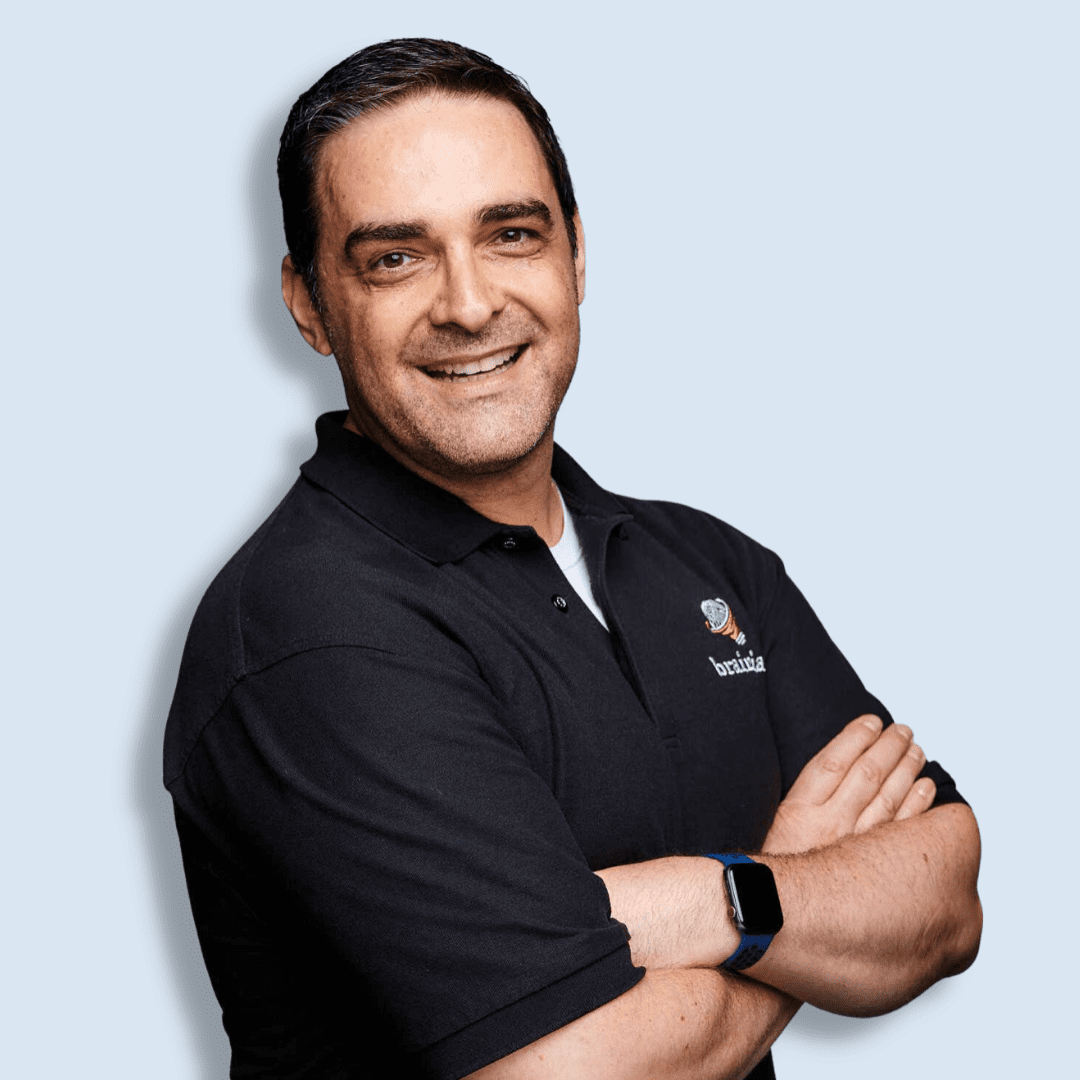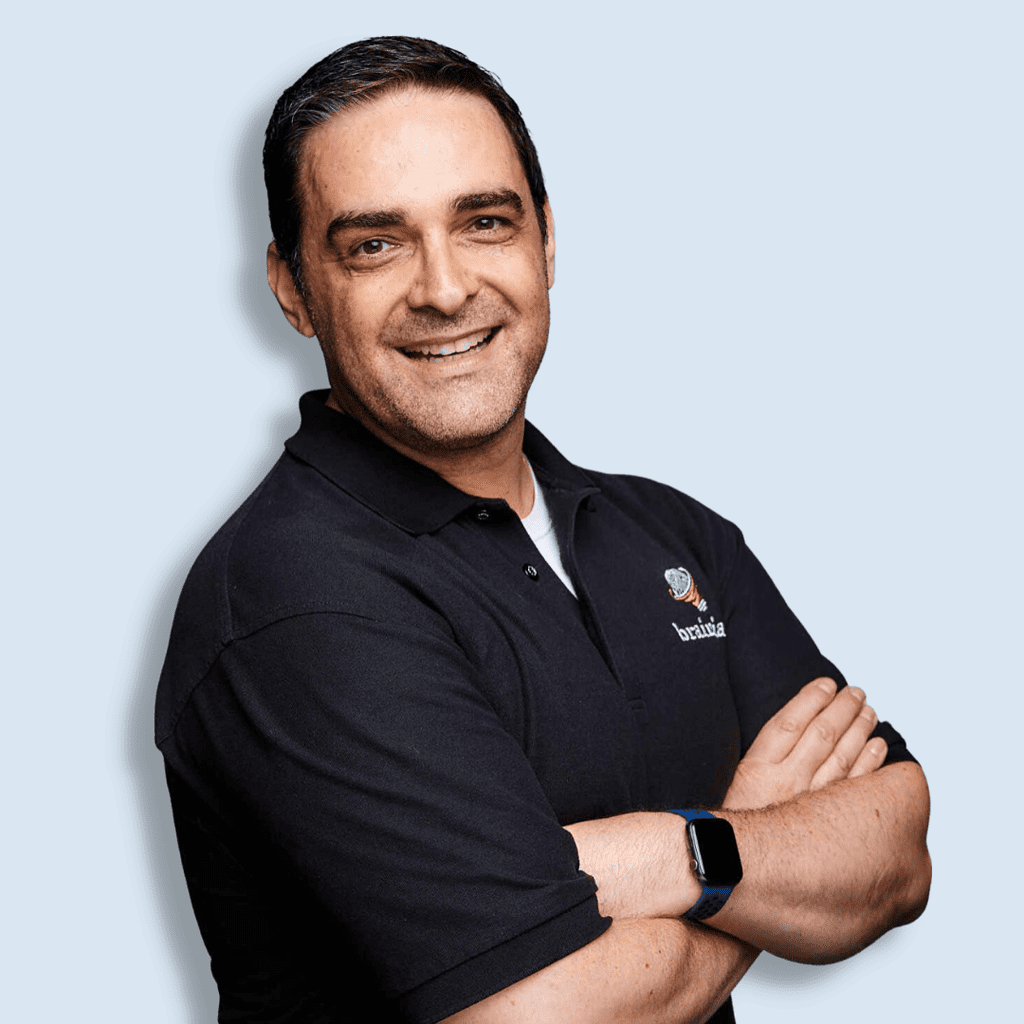 Get practical Salesforce advice in your inbox!
Feeling overwhelmed by everything you have to do as a Salesforce Admin?
I know how it feels.
I created the FREE Brainiate Newsletter – to help you stay up-to-date with the latest Salesforce news, advice, and product recommendations.
Sign up for my newsletter and get all that information right in your inbox – without having to search for it yourself. You'll be able to focus on your projects with peace of mind, knowing you're always up-to-date on the latest Salesforce updates.
Click the button below and sign up for my FREE Brainiate Newsletter today!

Your Superpower: Leverage Your Existing Skills
When finding your first Salesforce-focused job, leveraging your existing skills is critical. It can be intimidating to feel like you're applying for a job with no relevant experience, so it's essential to look at your skills and how they might transfer into the Salesforce space.
The most valuable asset any potential candidate has is their unique experience. Even if you don't have direct Salesforce experience, you may have other technical skills that could be useful in the Salesforce world. These might include web development or database management and proficiency in other related software tools. In addition, even "soft skills" like customer service or communication could be highly applicable in a Salesforce job.
It's also important to recognize that most entry-level Salesforce positions involve onboarding and training programs designed to help candidates learn the specifics of their jobs. Companies understand that new hires won't know everything on day one, but they are looking for employees who will bring something else to the table from an individual perspective.
Think about taking advantage of certifications (such as those offered by Trailhead) or professional organizations which can provide valuable resources and networking opportunities for those just getting started in the field.
Finally, remember that plenty of online resources are available to help anyone with non-Salesforce-specific backgrounds make their way into the industry. For example, many companies offer free webinars or articles that serve as introductory courses on fundamental topics such as process automation and cloud computing basics.
Additionally, reaching out directly to companies for informational interviews can be a great way to make connections and demonstrate your enthusiasm for working within the Salesforce space!
With determination and resilience, anyone can find an entry-level position that fits their unique qualifications — all it takes is creative thinking and an honest assessment of your existing skill set!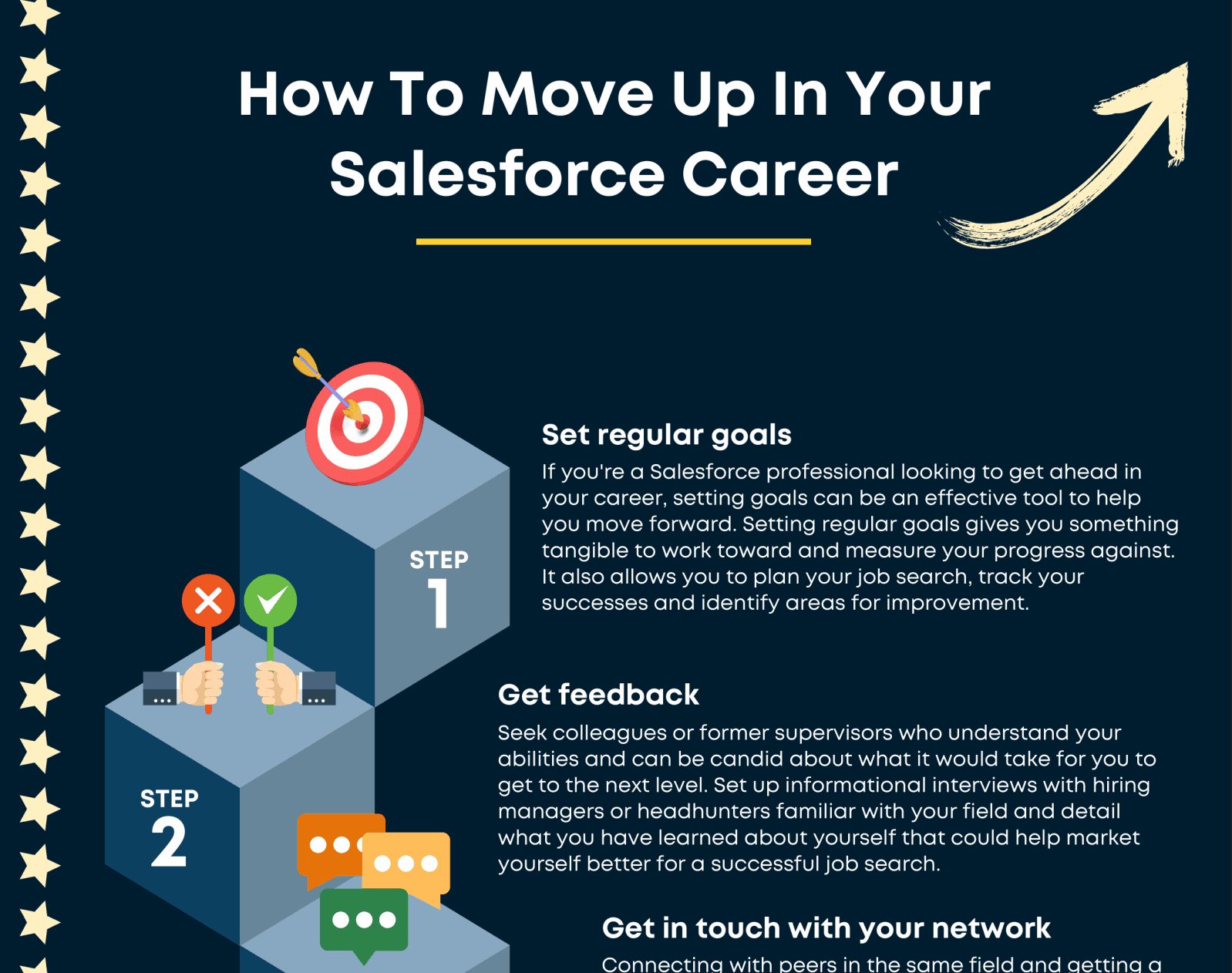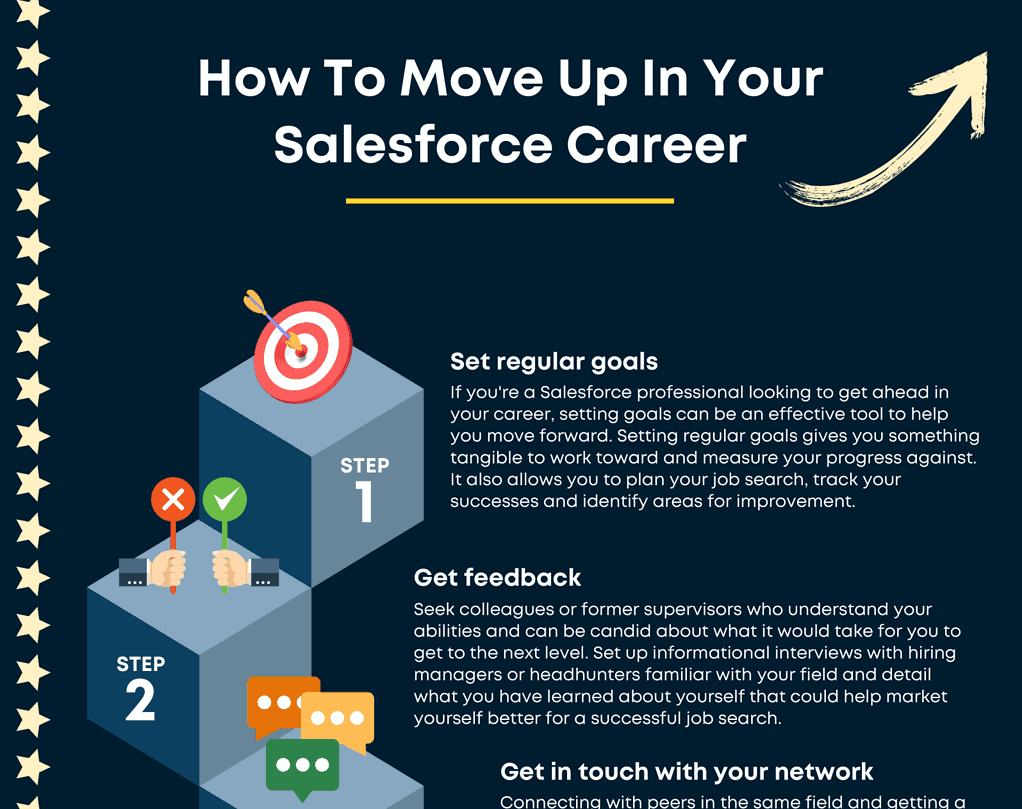 Free checklist: How to Move up in your Salesforce career
If you're looking for a Salesforce job, trying to improve your career and boost your income, you'll want to download this checklist!
With easy-to-follow and practical advice, this checklist will give you the roadmap to follow to position your Salesforce career for success!
Consider some of these transferrable skills:
1. Existing sales skills
One of the best ways to prepare for a Salesforce job is to leverage your existing sales skills. If you have experience in sales, you likely have many skills required to succeed in a Salesforce-related role. These skills include things like prospecting, networking, and closing deals. You can hit the ground running by leveraging your existing sales skills in your new role.
2. Existing technical skills
If you have existing technical skills, you can also leverage them to prepare for a Salesforce job. Many of the roles within the Salesforce space require some level of technical expertise. For example, if you are applying for a role as a Salesforce Administrator, it would be helpful to have some knowledge of databases or coding. Even if you don't have direct experience with Salesforce, your existing technical skills can still help you prepare for a new role.
3. Communication skills
Another essential skill that you can leverage for a Salesforce job is strong communication skills. Salesforce roles often require frequent interaction with customers and clients, so it is essential to communicate effectively. Additionally, many Salesforce roles involve presentations or demos, so speaking confidently is also essential. If you have strong communication skills, be sure to highlight them when applying for jobs at Salesforce.
4. Organizational skills
Another skill that can help prepare for a Salesforce job is organizational skills. Many Salesforce-related roles require managing multiple projects and keeping track of various deadlines. If you are well-organized and can handle multiple tasks simultaneously, highlight this skill when applying for a Salesforce career.
5. Time management skills
In addition to being well-organized, having good time management skills is essential when preparing for a Salesforce career. Many Salesforce-related jobs are fast-paced and require quick turnaround times on projects. If you can manage your time effectively and meet deadlines, this will put you at a significant advantage when applying for a Salesforce career.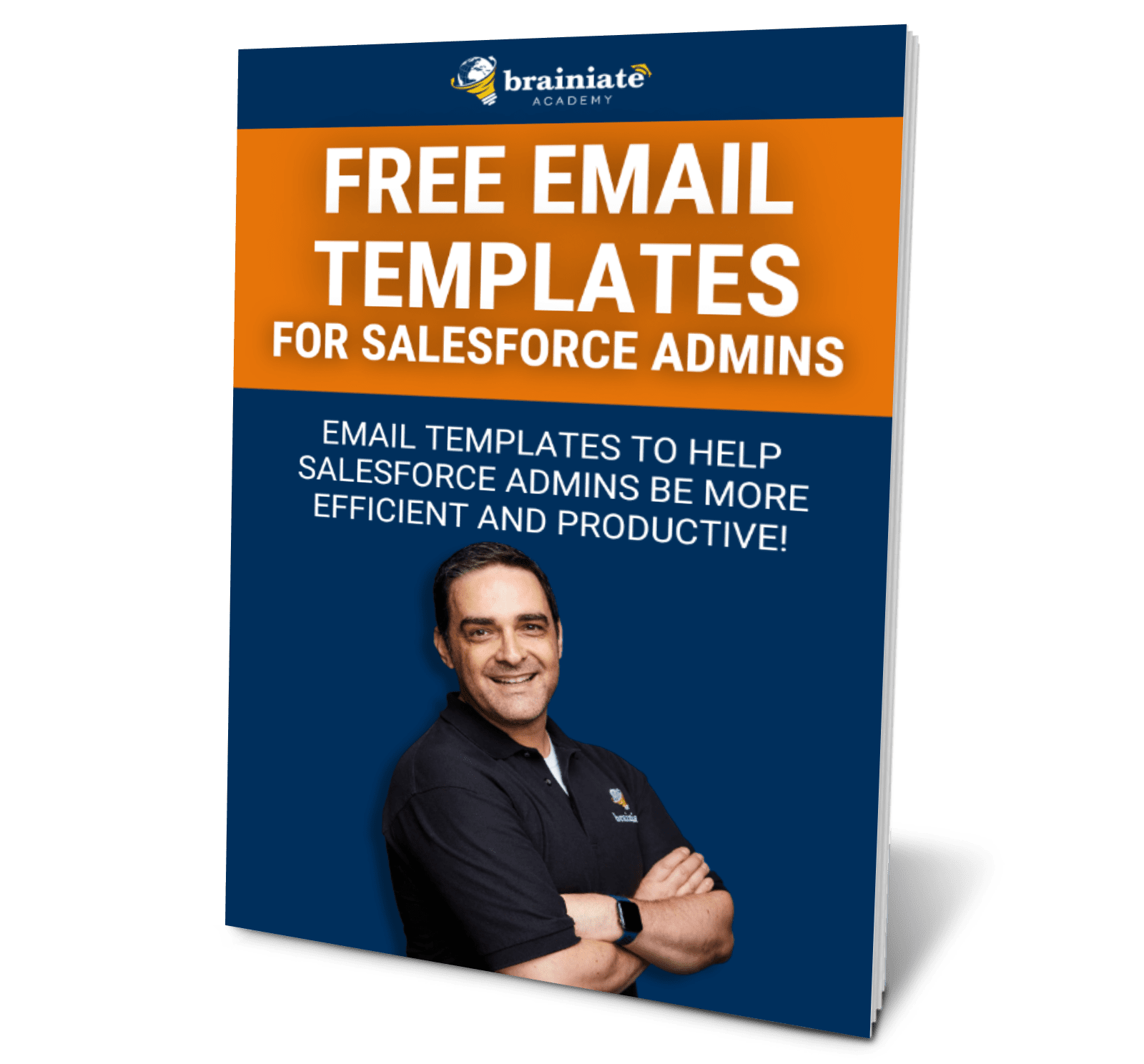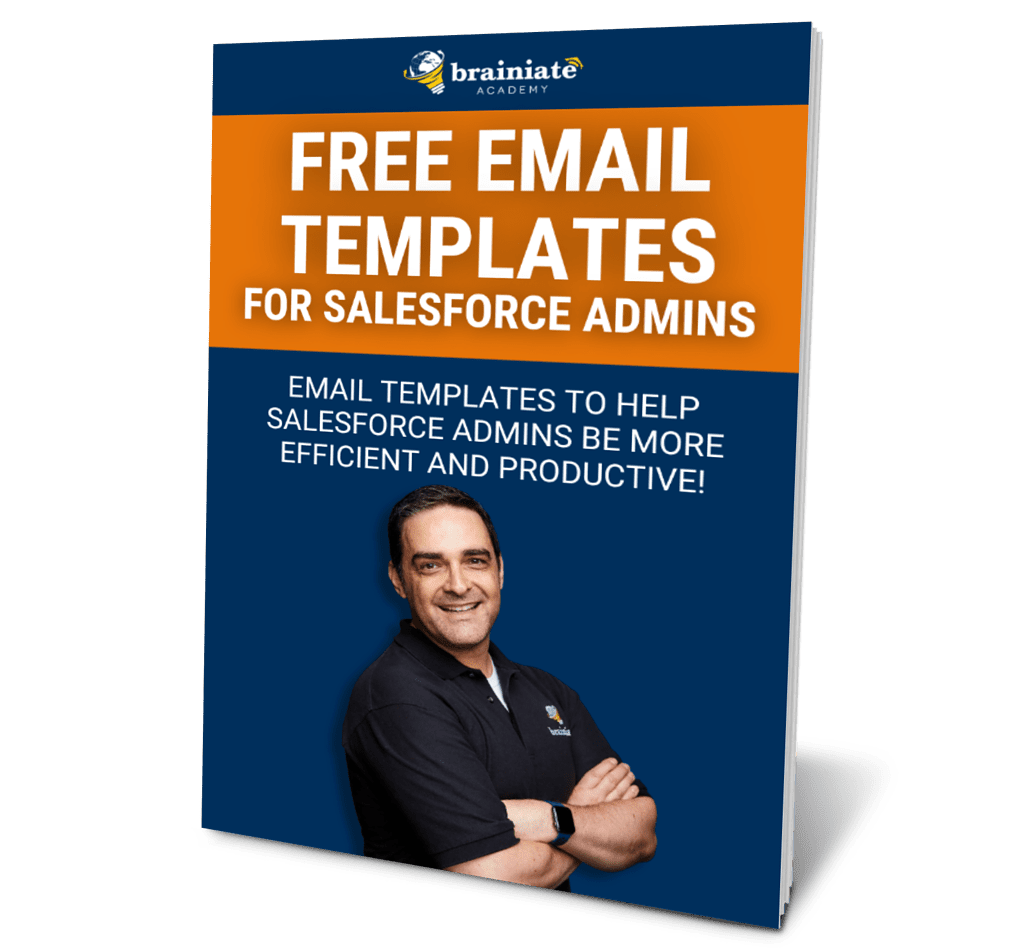 Free email templates for Salesforce admins
These FREE email templates can supercharge your productivity and efficiency as a Salesforce Admin. They cover various topics, such as getting information about a new user, territory redeployment, importing data, and following up on report requests.
Whether you need to save time on admin tasks or improve your team's communication, these templates will help you get the job done.
Plus, they're 100% customizable, so you can easily tailor them to your needs.
So what are you waiting for? Get started today and see the results for yourself!
Think Outside the Box
Creativity in one's job search is essential when landing a Salesforce-focused job. Even if a role doesn't have "Salesforce" in the title, that doesn't mean it won't require skillsets related to the Salesforce platform. Many companies leverage the Salesforce platform and may have positions open that don't explicitly say they need someone with Salesforce experience. To ensure you don't miss out on these hidden opportunities, you must be open-minded and think outside the box when searching for roles.
By researching different roles within a company, you may come across openings that use Salesforce but don't necessarily list it in the title. For example, Customer Service Representatives might need to be familiar with the Salesforce platform to help customers with any issues.
Similarly, marketing positions may involve using Salesforce tools for email campaigns or other tasks related to customer engagement. Therefore, by taking a holistic approach to your job search, you can uncover roles utilizing the tools you want to gain experience without necessarily having "Salesforce" listed as a requirement or even part of the title.
In addition, part-time roles or internships provide valuable experience working with the Salesforce platform at organizations leveraging it on their teams. Companies will take on part-time employees or interns filled on a contract basis – this is an ideal way for newbies just starting in the Salesforce space to get some hands-on experience and prove themselves before going full-time at an organization that uses their services.
Furthermore, internships can provide invaluable learning experiences and excellent networking opportunities, which can help propel one's career forward faster than relying solely on self-learning and online courses.
Finally, it pays off big time to be proactive when looking for job opportunities involving the Salesforce platform since there is always a high demand for experienced professionals who can come in and hit the ground running from day one. By utilizing all available resources such as LinkedIn and Glassdoor and staying up to date on industry news, you can ensure you stay ahead of potential openings before they become widely known among other applicants vying for them too!
Utilize Your Connections
Networking is one of the most important tools for breaking into a new field, such as Salesforce development or administration. Making connections in the industry can help job searchers gain access to opportunities that are often not visible or accessible through traditional job-hunting methods. LinkedIn and other social networks can be great resources for connecting with people in the Salesforce space.
An essential element of networking is to be genuine and honest about your goals and capabilities. An up-to-date profile on platforms such as LinkedIn sets you apart from others looking to break into the Salesforce space. It allows potential employers to get to know you better before they reach out to you, which increases your chances of being noticed. Furthermore, it's crucial to establish yourself as an expert in the field by actively participating in discussion forums, attending webinars, writing blog posts, and staying abreast of current trends.
One effective way of expanding one's professional network is attending offline events such as tech meetups and conferences related to Salesforce development and administration. These events provide an excellent opportunity to meet other professionals from various backgrounds who are also interested in breaking into the field. Additionally, they may offer invaluable advice on securing a job in this space.
Additionally, volunteering at these events can open up even more avenues for networking with potential employers and colleagues within the industry who could help land that dream job in Salesforce development or administration.
Other ways of making connections include joining online communities related to Salesforce development and administration. Participating in these groups provides individuals with valuable contacts who can help them obtain their first job in the field. Moreover, they can offer advice on how best to approach interviews or market oneself when applying for jobs within this sector.
Finally, networking through word-of-mouth referrals has become an increasingly popular way of finding out about job openings since referral candidates are often looked upon favorably by prospective employers due to their recommendation from someone else working within the industry who knows their capabilities well.
Conclusion
In the end, it is essential to remember that even though Salesforce is a highly specialized field and many of the roles require a deep understanding of the technology, having non-Salesforce-related skills, experience, and industry expertise can still be enough to find an entry-level role.
Unlocking the power of your soft skills can give you an edge in landing that coveted Salesforce position. Communication, problem-solving, and project management are all jewels in your career crown — plus, any industry expertise gives extra shine!
Networking with Salesforce professionals is a great way to seek employment opportunities in the industry. They can tell you about new openings and can personally recommend you – meaning more doors are open for your career!
Taking the time to boost your Salesforce and soft-skills knowledge can give you a significant leg up when landing that dream job. With courses, certifications, or other learning opportunities, you'll demonstrate commitment and dedication in this field, among an employer's top criteria for successful long-term careers.
Finally, don't forget to emphasize enthusiasm when applying for jobs related to Salesforce – with the right attitude, drive, and dedication, anything is possible!